One of the most sought after furniture is the perfect lounger. Whether it's hung indoors or outdoors, it's ideal for relaxing, de-stressing and is useful in your living room as well as in your patio. Some are even environmentally friendly while some you can create yourself.  Researches even suggest that the perfect lounger can be a health asset by enabling prevention of chronic fatigue syndrome or varicose veins. If you are looking for such an accessory for your adorable home – look no further. One lounger meets all above criteria and features an awesome design; it's the Swing Rest.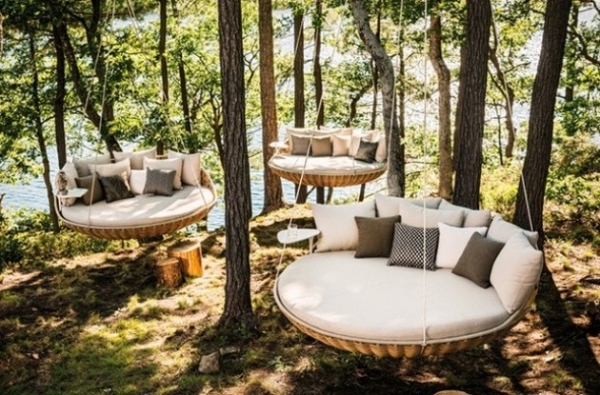 A marriage of ideas between the famous German luxury furniture manufacturer Dedon and the French designer Daniel Pouzet led to the birth of this original design. It was the first to be unveiled at the Outdoor Living Lab in Dedon Island resort in the Philippines. The inspiration for this unusual design comes from Dedon Island resort's extra high ceilings. The patented resin basket bottom resembles its predecessor the "Nestrest "in its features as well as in its name. However this furniture is an improvement on its prototype.
Firstly, it accommodates more than one person yet seems to take up less space. Pouzet focused on simplicity and made significant improvements on its forerunner. Starting with the creation of its 180 degree suspension system, the spinning Corian tabletop and unique cords that cover the visible cable ropes. The overall design reflects the creator's minimalistic, wholesome concept. This lounger can be yours in natural earth tones and it features an optional fabric which allows those sitting inside to see outside but maintains the privacy within. The Swingrest looks inviting inside your home or on the veranda, can be hung from trees for a picnic in the garden or in your backyard for when friends come over for barbecue.