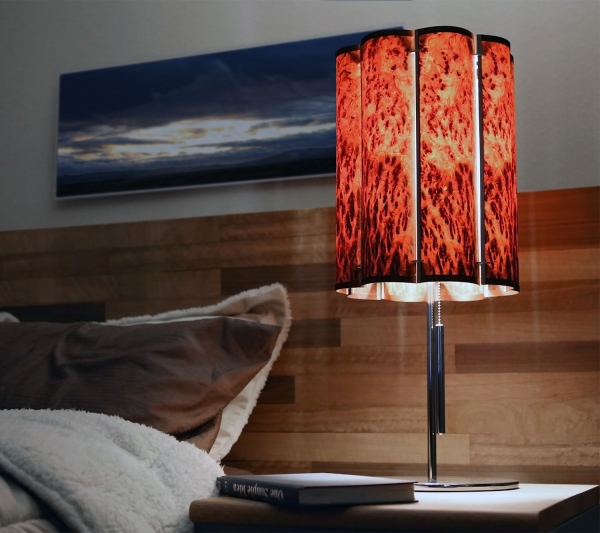 The color and texture of wood brings life to our surroundings. When the team at NoEnd Designs created the Slatewood Lamp they sought to build an adaptable platform that could work with all types of media. The design is centered around soft and hard woods but glass, carbon Fiber, and virtually anything else can be inserted into the mechanism. Having this "open slate" ensures that there is something that will look great with your furniture or anything else that makes your living space a place that you enjoy.
The Razor variation is designed for use with richly colored hardwoods. It is sleek and modern. To contrast its hard lines, the Arc was designed to use soft woods and smooth curving lines. You are sure to find a style that suits your taste.
The Slatewood Lamp is made using sustainably sourced material wherever possible and a tree will be planted for each lamp sold.
A table and floor model are available with 13 different varieties of shades. A shade can also be purchased separately. The table lamp measures 27″ Tall (69cm) and is 10″ Wide (25cm). The stand can be finished in your choice of Satin, Brushed, and Polished Nickel.
NoEnd Designs is committed to hand crafting each of their shades to an implacably high standard of quality. Their team of seasoned designers, engineers, and craftsman has spent two years developing the Slatewood Lamp to ensure it will stand the test of time in your home or office. [images submitted via email by NoEnd Designs]