The perfect canvas for play and creative whimsy, contemporary kids furniture meets the infinite possibilities of LEGO in this fabulous range from Spanish furniture design and manufacturing company Lola Glamour. Evoking the nostalgia of early childhood, the range creates a platform for originality and exploration. Lego bricks explode to take on an array of profiles and purposes, lending new meaning and ideas to every surface and design. Handmade and beautifully crafted, each piece in this stirring range finds place in the heart of both children and adults alike.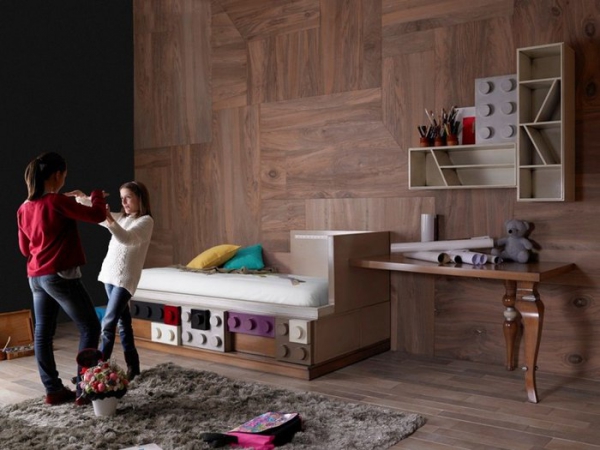 Made from high quality wood, the range is conceived to withstand the impact of unbridled play and time. The range comprises of four signature pieces- bed, wardrobe, desk and shelves. Each piece establishes its own unique relationship with the Lego building blocks, creating a themed furniture range that allows for plenty of variation and adequate hints of surprise.
The blocks morph into storage drawers in the low heighted bed, extruding back and forth to make even the most ordinary of tasks utterly playful and interesting. Elsewhere in the range it offers a tactile experience that adds to the experience and visuals of the furniture, adding to the appeal of the design with fun repetitions and enhanced accessibility.
More than just being playful and inventive, this range of contemporary kids furniture illustrates the principles of sound and smart design.