Our interiors are populated with timeless forms and furniture, yet ever so often a few smart design strokes push the possibilities even further. Winner of Formabilio's 'Iron Age' metalworking competition, the Antia Chair brings modern lines and lightness to the classic chair profile. Designed by Italian design firm Alpestudio Architetti Associati, this contemporary chair design takes a material sensitive, graphic approach to meeting functional and anthropometric demands.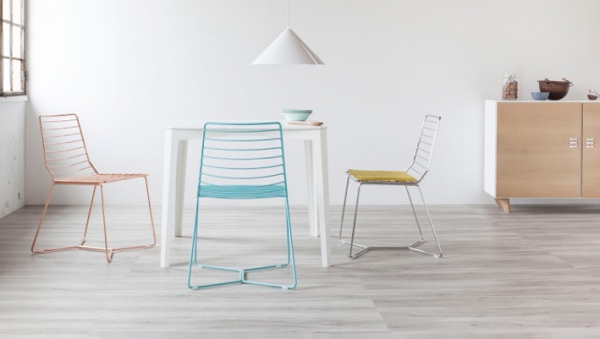 The neat and rigorous figure of the Antia translates structural rhythms into a visual vocabulary, creating a compact design that is generous on seating and aesthetic potential. The stable design sits lightly with a feminine grace, easing up even the most compact and cluttered of spaces.
The Antia is constructed in sturdy steel and is finished in water based varnishes in ice white and lagoon green colors. This contemporary chair design is also available in a smart chrome plated finish as well as an exclusive copper plating finish with golden highlights. With four very distinct looks, you are sure to find the perfect match for your space and décor. A cushioned option is also available, realized in natural felt with 90% wool and with a polyurethane foam filling.