This DIY lounger is a beautiful and modern piece of DIY furniture. It is simply reclaimed wood, screwed together. Beautiful, earth-friendly, and easily put together, makes this a must-have piece of DIY furniture. Brought to us by Ben Uyeda, over at HomeMade Modern, and sponsored by RYOBI, most of the tools needed can be found at your local hardware store, or they are already in your garage. The other necessary material, logs, are easily attained through landscaping companies, or your own yard waste. So grab your tools and some wood, and let's take a crack at it.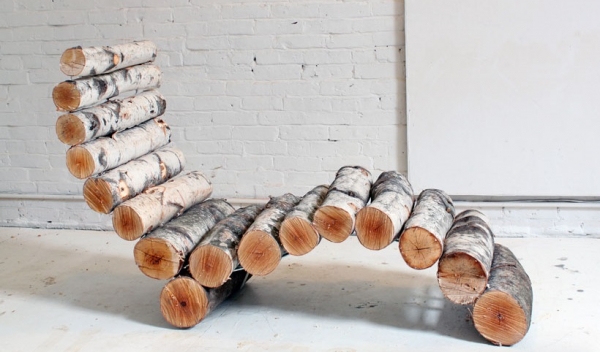 What you need for your DIY lounger:
Logs (3″- 6″ in diameter)
Masking Tape
Measuring Tape
Permanent marker
Lag Screws in sizes 1/4″ x 6″ and 9″
The 9″ lag screws are for the larger logs.
3-4 screws per log
Brackets and Deck Screws
18 Volt Chainsaw
18 Volt Cordless Drill
1 1/4″ Drill Bit
Extra Long 1/4″ Drill Bit
Socket Wrench or 18 Volt Impact Driver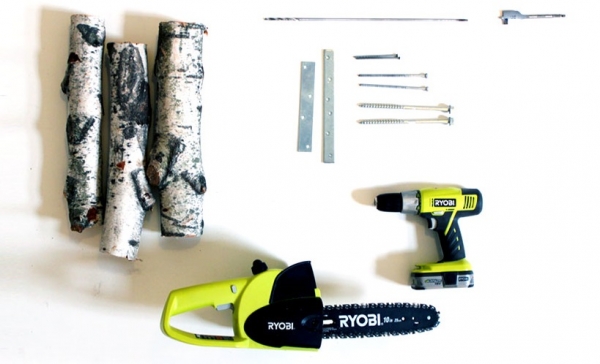 How to build the DIY lounger:
Measure and mark the log into 18″ pieces. You can do this all at once, or individually. You can choose longer segments, if you have enough material.
Use the masking tape to layout your design.
Using the 1 1/4 drill bit, drill large holes, 1-2 inches into the log. The holes have to have enough depth, to let the screws go into second log minimally 2.5″. Drill pilot holes with 1/4″ bit, through the first log only.
Take the socket wrench (or the impact driver), and push in the lag screws, connecting the logs. Each log needs 3-4 lag screws.
Once you have connected all the logs, put it in its correct position and find the unsteady spots. Also, take this opportunity to adjust the DIY lounger into your desired shape.
Turn the DIY lounger on its side. On the backside of the DIY furniture, use the steel brackets and deck screws to reinforce the unsteady parts.