Coffee tables have become a must-have component of interior design. Their varied design, multifunctionality and versatility means that they can be placed anywhere in the home – in the living room, in the bedroom, in the dining room, and even in the entry hall. They were originally introduced as modest auxiliary furniture items, later developing into fancy cocktail tables and luxury furniture pieces.
In shape, size, design, and material, coffee tables may vary a lot but, as ever, they provide convenient additional surface for various display and storage needs, such as serving drinks, organizing magazines or mail, or displaying an original décor piece. Modern interiors often offer these occasional tables in cool artistic designs, turning them into a focal point of the décor or a great conversation piece.
If you are looking for a spectacular piece of design furniture to use as a coffee table, here are 7 incredible options from Barnebys: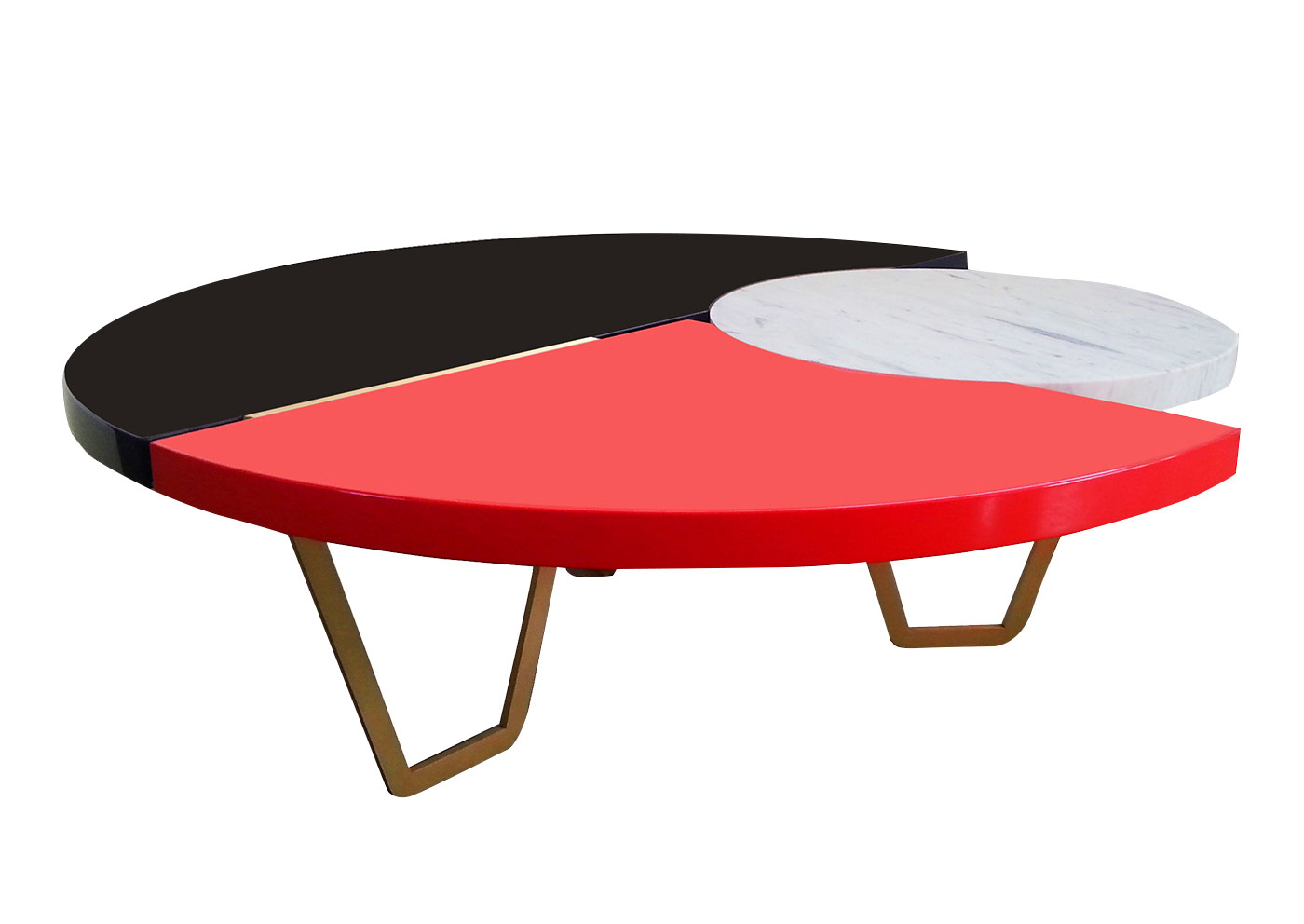 From Above Marble Coffee Table
This elegant coffee table is a unique piece of furniture, created by the talented Italian designer Hagit Pincovici. It is included in both the Metaphysics Collection and the Eclipse Series. The piece features an Art Deco inspired abstract design with a modern twist, and is a subtle representation of aerial photography. Brass legs support a top round surface divided into three sections. The accent is a round shape made of white marble, beautifully complemented by two 'pie chart' pieces made of wood, decorated in black and red and covered with hand-applied premium resistant lacquer.
Marg Coffee Table
Avant-garde in design, shape and material, this striking coffee table is a fine example of the creative mind of the Japanese designer Shinobu Ito based in Italy. It is made of wood fiber gently colored in a light shade of grey and finished with a bamboo wood veneer. What makes this piece so attractive is its unusual shape and structure. The table comprises of two separate elements that, when placed close together, fit into each other like Yin and Yang. The original hexagonal decoration of the top makes it practically impossible to notice the connection line between them. On the other hand, the two sections can be used separately, preserving the overall design concept.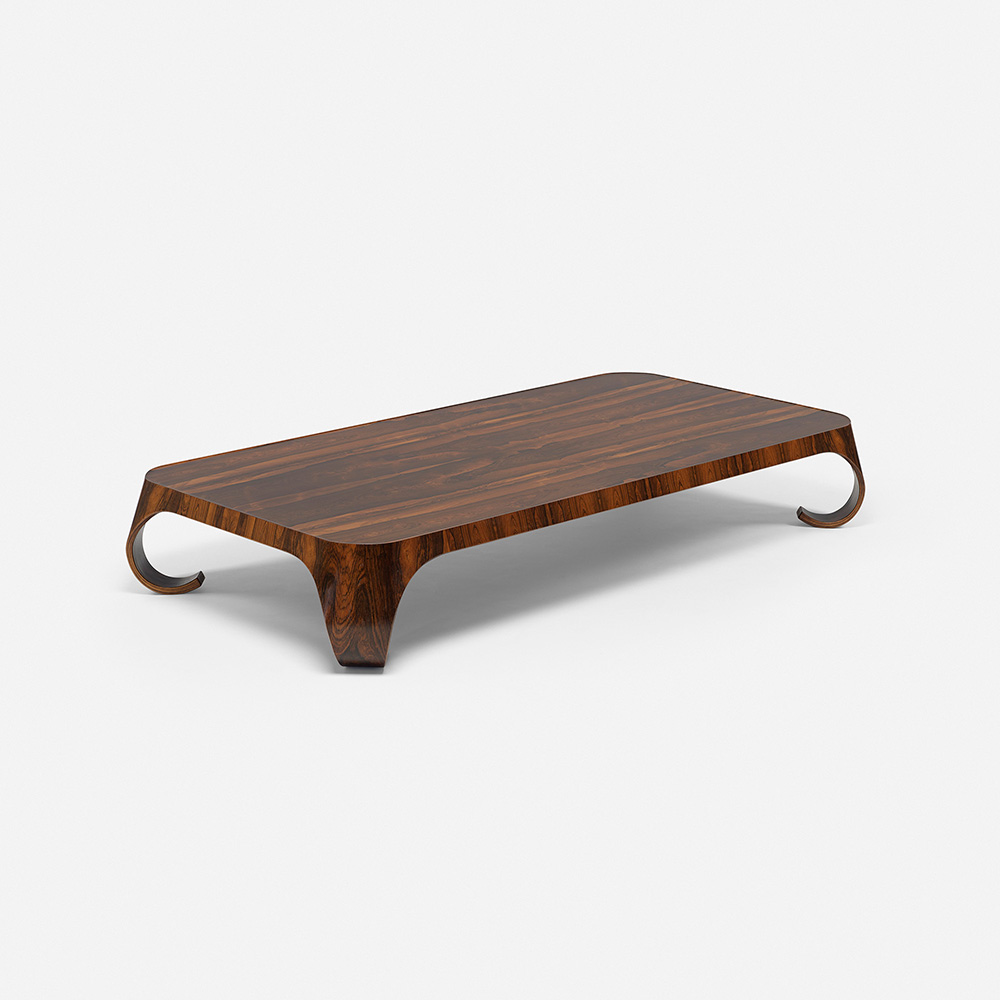 Isamu Kenmochi Custom Coffee Table
This little vintage bijou was created in Japan back in 1956. With its elegant unobtrusive design and obvious functionality, it encapsulates the design philosophy of the Japanese industrial designer Isamu Kenmochi. The piece is made of rosewood whose beautiful reddish-brown color gives a warm feel. Time has left its traces, though. Thin abrasion from use can be slightly noticed on the surface and there is also a small discolored area. The top has a slightly notable foggy appearance to finish in raking light. The overall condition of the vintage coffee table is however very good and it is a great conversation piece to have at home.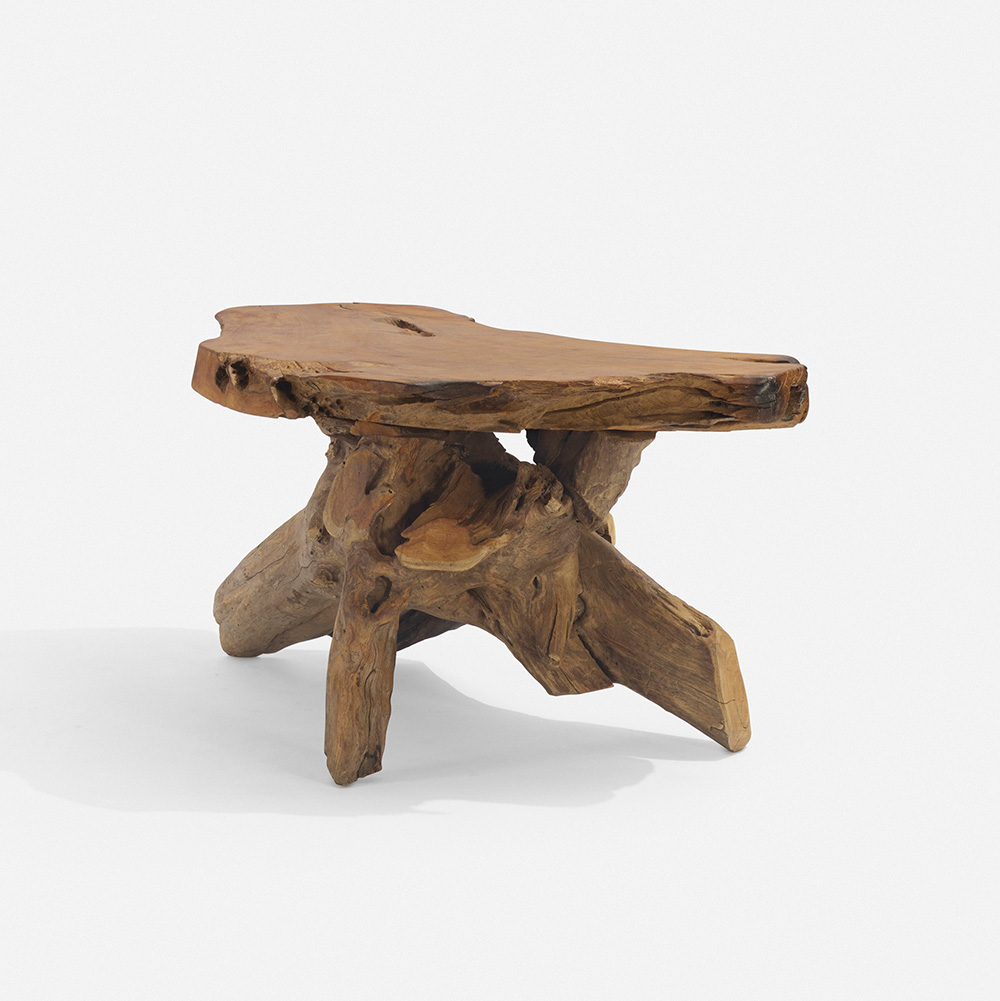 Swedish Coffee Table
This original coffee table is an excellent example of the 'Live Simply and Close to Nature' – design philosophy of Scandinavian designers. The piece is an original vintage exhibit pleasing the eye with rustic aesthetics. It is created of natural driftwood and features a base of complex structure and a flat top of irregular shape. There is a minor damage at one end of the table which is however well concealed by the nature of the material.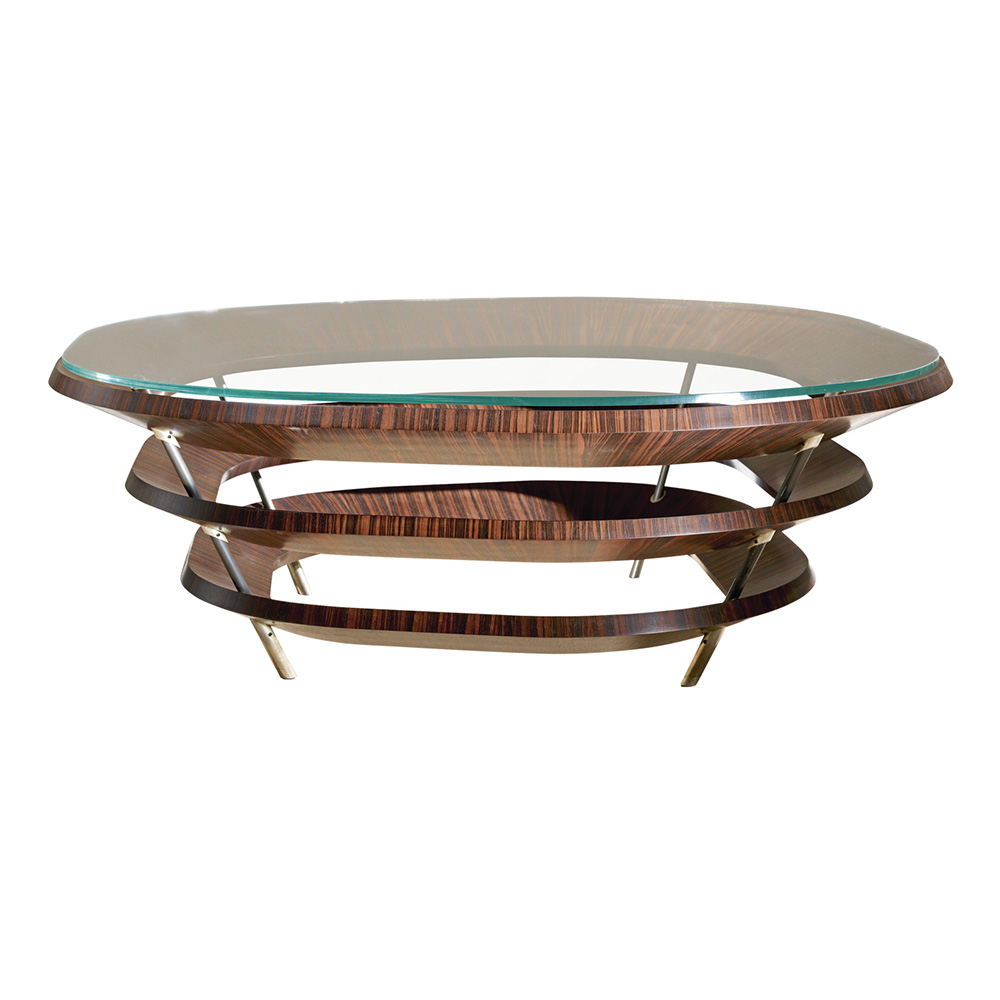 Stadium Coffee Table
This exquisite coffee table strikes with its intriguing structure and original design. The base is comprised of three irregular rings made of veneered ebony Macassar wood, with its characteristic dark brown strikes. The parallel elements are arranged vertically crowned by a wide top of transparent crystal. The entire structure is supported by four legs in black metal with silver highlights. A fabulous artistic piece of furniture that would beautifully complement any modern interior!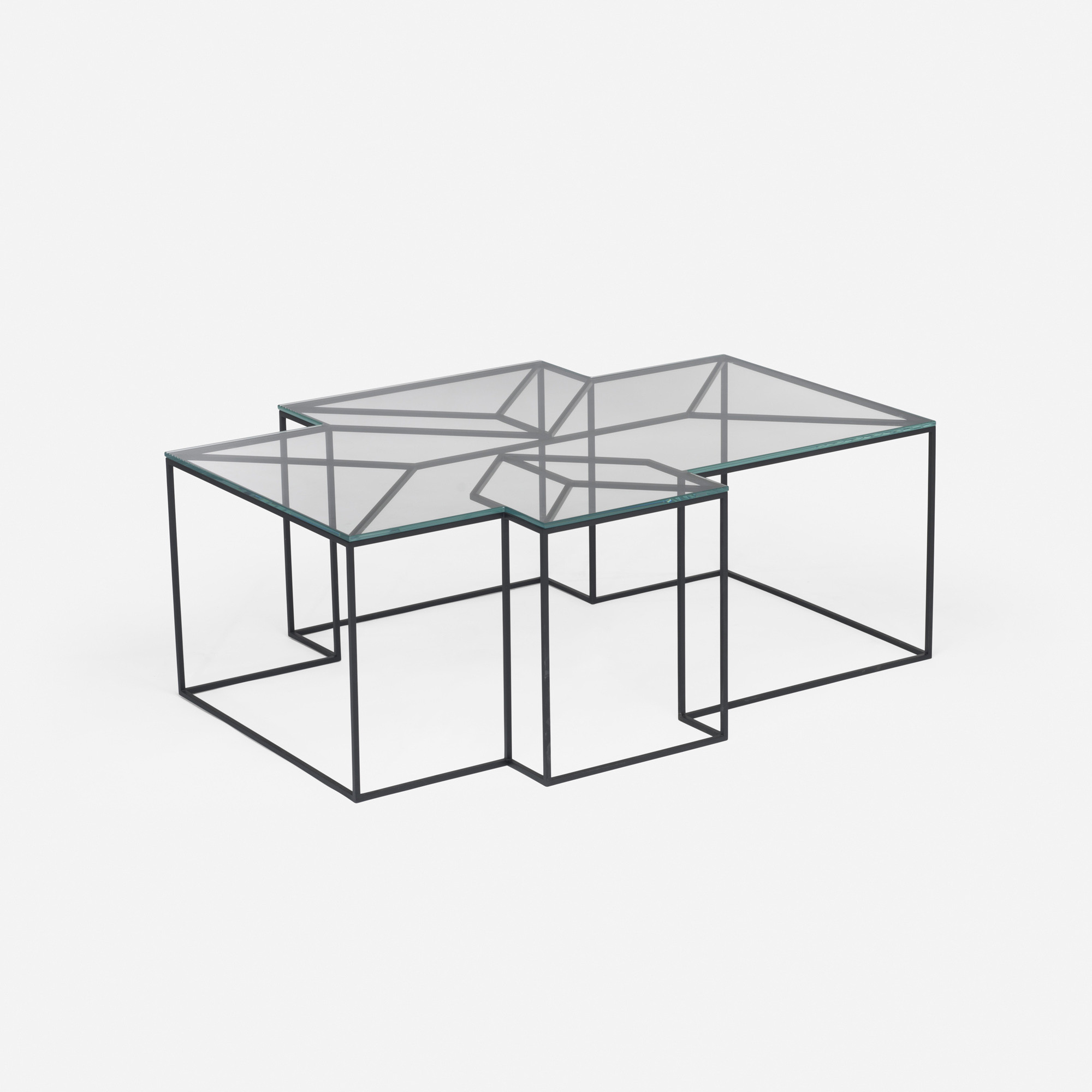 'Blue Print' Coffee Table
Exhibited as Coffee table #2 this unique piece was one of the most attractive items at the solo exhibition of Ron Gilad in 2009. Its structure is inspired by architectural drawings and represents the designer's minimalist insight at finding aesthetic expression through the geometric purity of blueprints. The legs are of enameled brass supporting a top of ultra clear glass. The piece is in an excellent condition.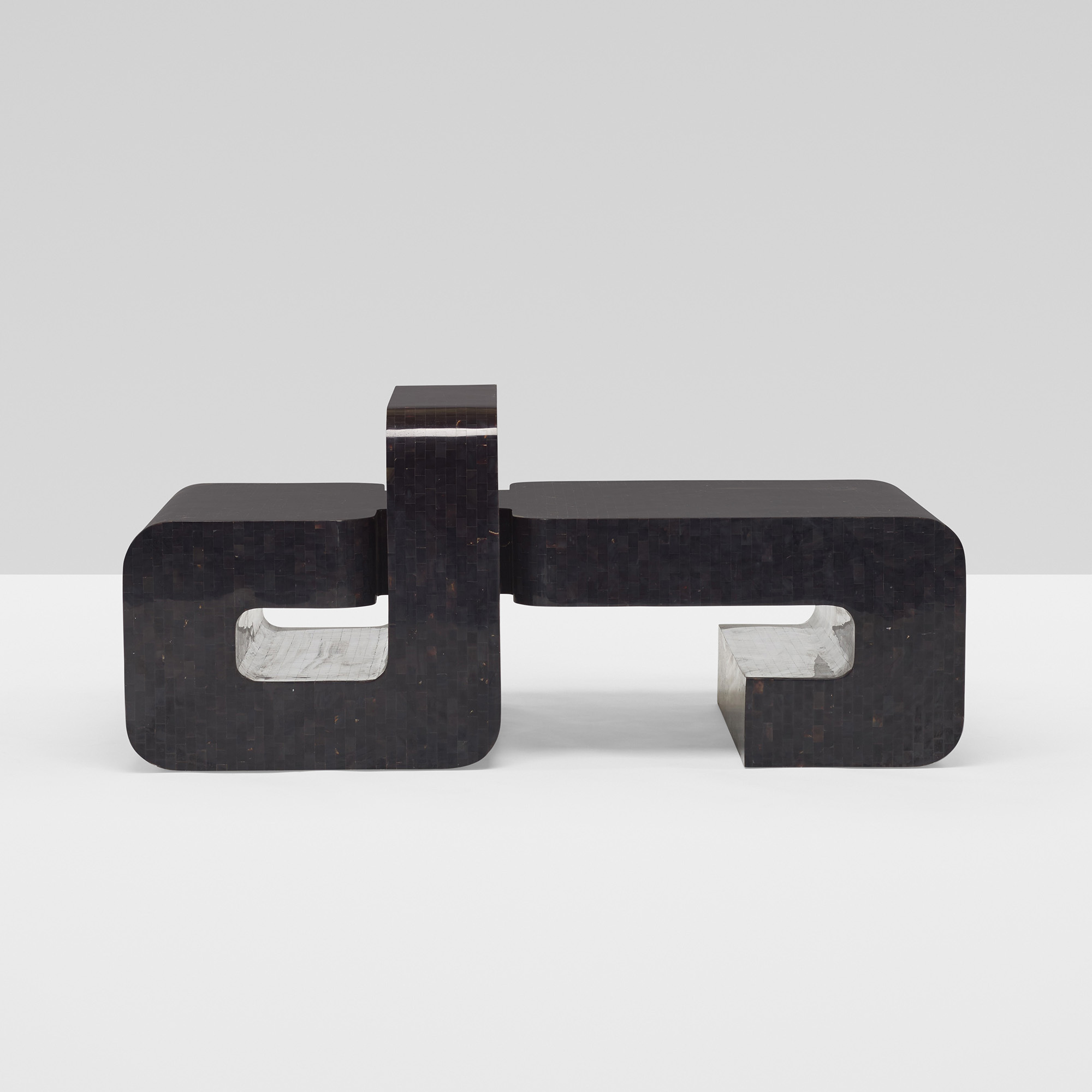 Sculpture Coffee Table
This chic coffee table with a somewhat futuristic design was created by the Berlin-born, New York–based designer Karl Springer. The provocative structure is made of no-less provocative material, carved horn finished with black lacquer. The design showcases pre-postmodernism features of captivating sleekness. The coffee table comes with a certificate of authentication from Tom Langevin, former director for Karl Springer, Ltd., despite of some minor defects.