Few things come close to lifting the spirits and invigorating the soul, as the sights and sounds of a warm sunny beachside. Bursting with ideas and enthusiasm, the beach essentially is a timeless symbol of playful positivity, relaxed informality and a sunny embrace. No surprise then that the beach vibe extends even into the indoors to enthuse and inform its design!
A stunning overlay of colors, textures and elements found in sun, sea and sand, beach décor is a generous imprint of the very best nature has to offer. No matter what your choice of medium or expression, sun kissed beach décor brings a delicious warmth, rich materiality and elegant intricacy to your space through the most effortless of gestures.
Plus it doesn't have to cost you the earth! The easy tones of this style make it ideal for some quick and easy DIY.
7 great ways to conjure some beautiful DIY beach inspired home décor
#1 Show Nature Off Indoors
It doesn't take much to bring the warm sandy glow into your home- even your beach bounty can be easily transformed into stunning décor additions that make for dramatic statements and big impressions. From the delicate rhythms and textures of shells you may have found to the exuberant materiality of a piece of drift wood, your beach findings make for elegant centerpieces or sculptural accessories. These can be mounted and placed center stage by themselves or composed into stunning arrangements; pair with soft candle light or wash in a burst of natural sunshine for added effect.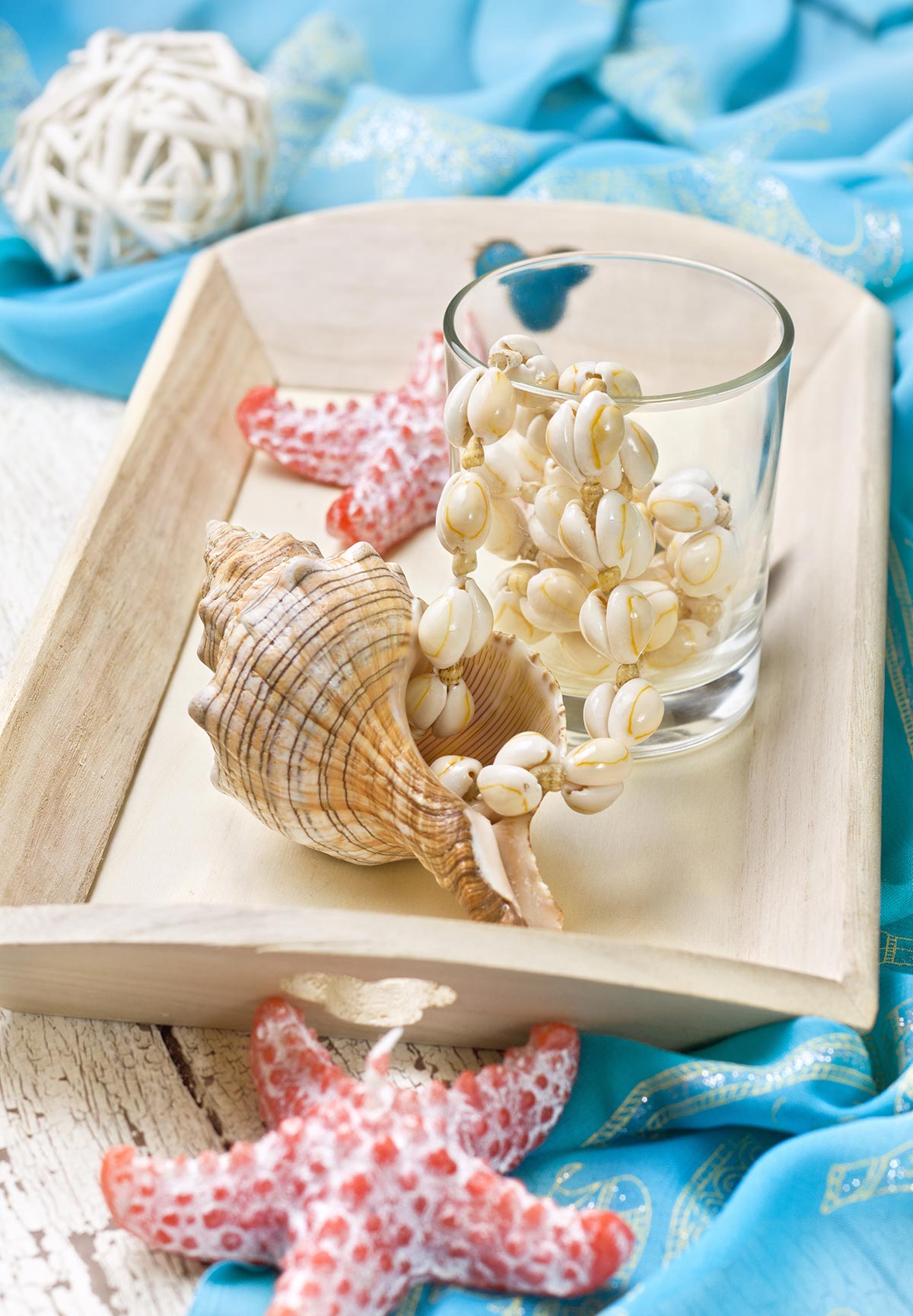 Image credit: 123rf
#2 Create Easy Beach Inspired Centerpieces
Bring the textures, elements and symbols of sea and sand into your home with the simple yet utterly stylish recipe for an eye catching beachy centerpiece. All you need is a glass cylinder or mason jar, clear sand and your favorite finding from a long walk by the sea- it could be a sea star, conch shell or something else. Pour an inch or two (or more depending on the size of your container) of sand into the jar, creating a bed to embed your marine artefacts into.
You can embellish with smaller shells, or create a series of sand containers to exhibit your collection of shells big and small. A fabulous way of decking up your reception or living room, or even your bedside table, this DIY beach inspired home décor is sure to bring the sounds and memories of the sea into the very heart of your home.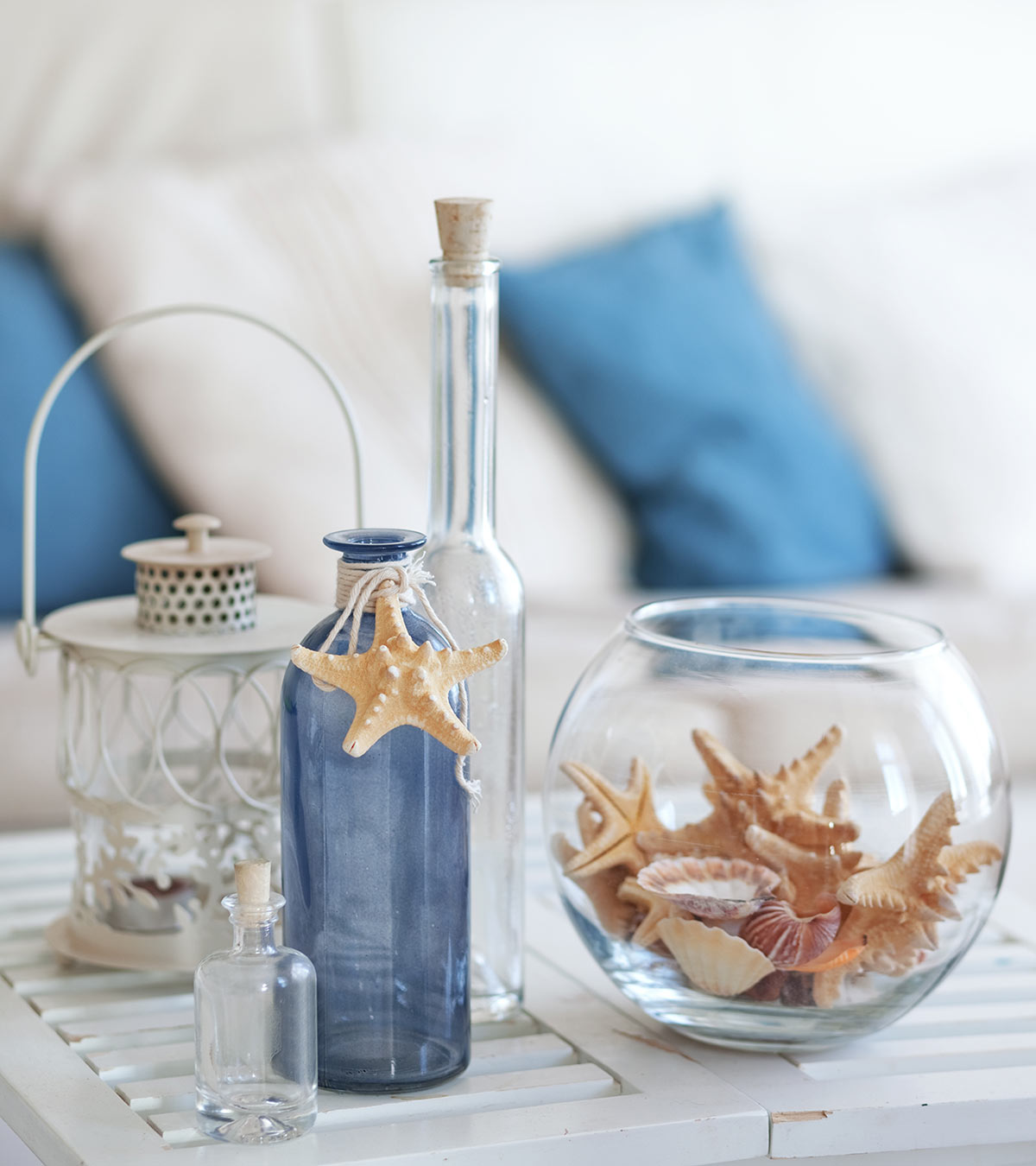 Image credit: 123rf
#3 Thread a Shell Garland
Bring a wash of summer and warm sandy beaches into your living space with a shell garland. You will need some jute cord and fishing line (or other nylon string) and a generous collection of shells, scallops, sea stars and twigs. Essentially you use the jute string to thread the different pieces together, using the fishing line to affix them in place. To do this you may need to drill holes through the shells and other decorations.
Image credit: 123rf
You can of course adapt the project to create just as fabulous shell partitions, or twist around some fairy lights for a truly nautical ambience.
#4 Oars Headboard
Transform your humble bed into an all-out nautical adventure with this nifty idea. Gather a dozen or more oars- you can recycle and repurpose discarded ones or even build your own if you don't fancy buying them off the shelf. Try and mix and match a few sizes, materials, colors and textures to introduce subtle variations into your arrangement and design. Line these up along the head of your bed, screwing these into place onto a singular lateral wood piece fixed onto the wall.

Image credit: Completelycoastal.com
#5 Seashell Shadowboxes
It doesn't get easier than this to uplift your space without investing much time, effort or money. These seashell shadow boxes are sheer genius when it comes to DIY beach inspired home décor, taking you no more than half an hour to assemble and finish. Just grab your collection of sea shells (or purchase them from a local craft store) and a shadow box picture frame.
Keeping the frame upside down fill it up with seashells, making sure to fill in those tiny gaps with smaller shells packing in as many as you can. Seal the shells in and voila! you have an inexpensive yet utterly stylish accessory for your home.
You can find a step by step tutorial here.
#6 Seashell Mirror
The name says it all here; a hot glue gun and you can zap even the most ordinary of mirrors into a décor masterpiece- perfect for both formal an informal affairs in and around the house. All you need is a fascinating selection of sea shells in different shapes and sizes; read the full tutorial of this DIY beach inspired home décor idea on HGTV.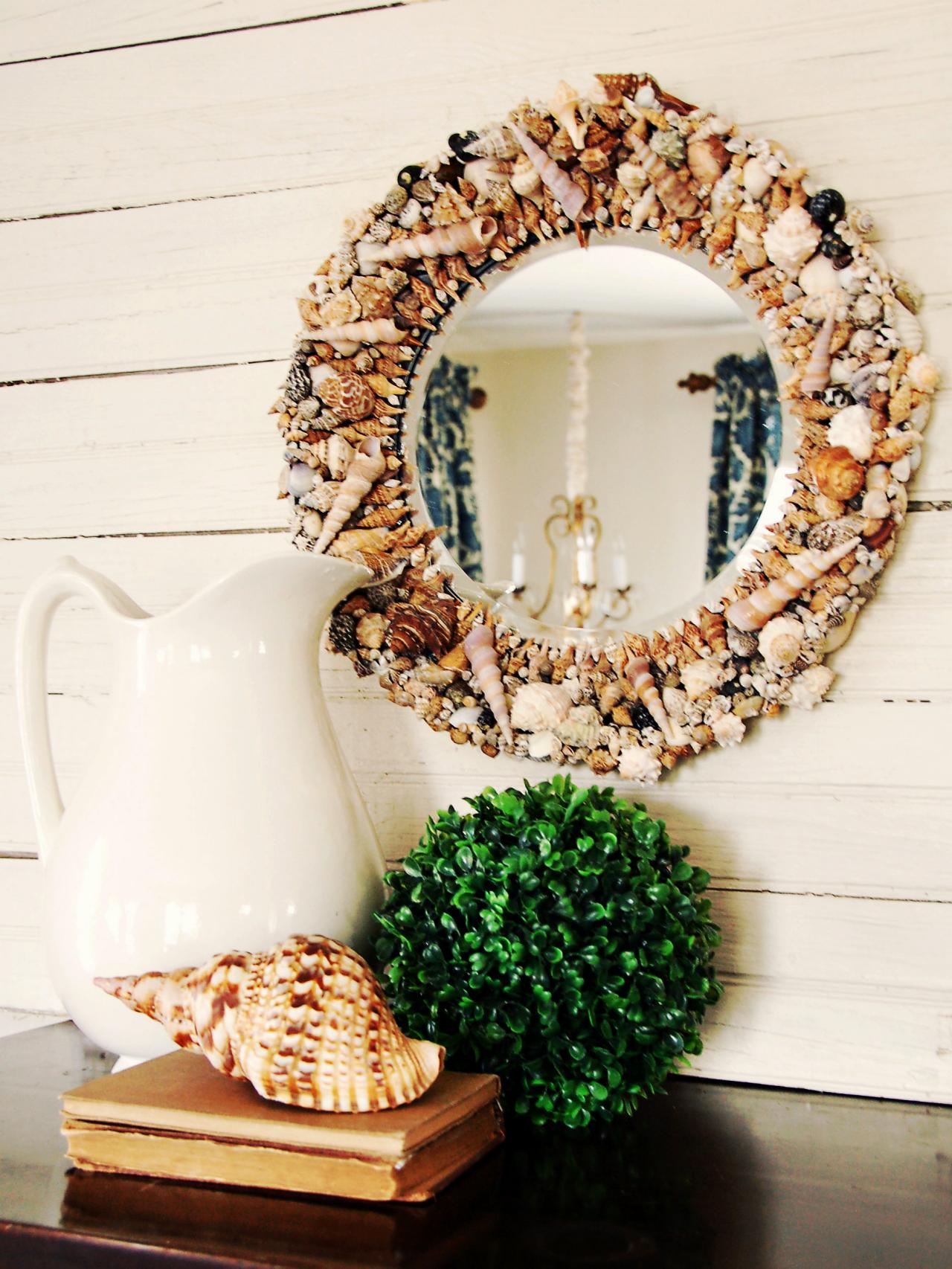 #7 Give Your Furniture a Nautical Makeover
A little makeover magic can transform even the most tired piece of furniture into a sea enthused, sun kissed delight. Blues and whites are the colors of the day when it comes to nautical makeovers, perfect in time worn, distressed looks that let through hints of the underlying texture and materiality. You can even use materials such as wicker or jute cord to accentuate the look, or rely on strong motifs and visual icons to do the job for you such as in upcycled cabinet pictured here.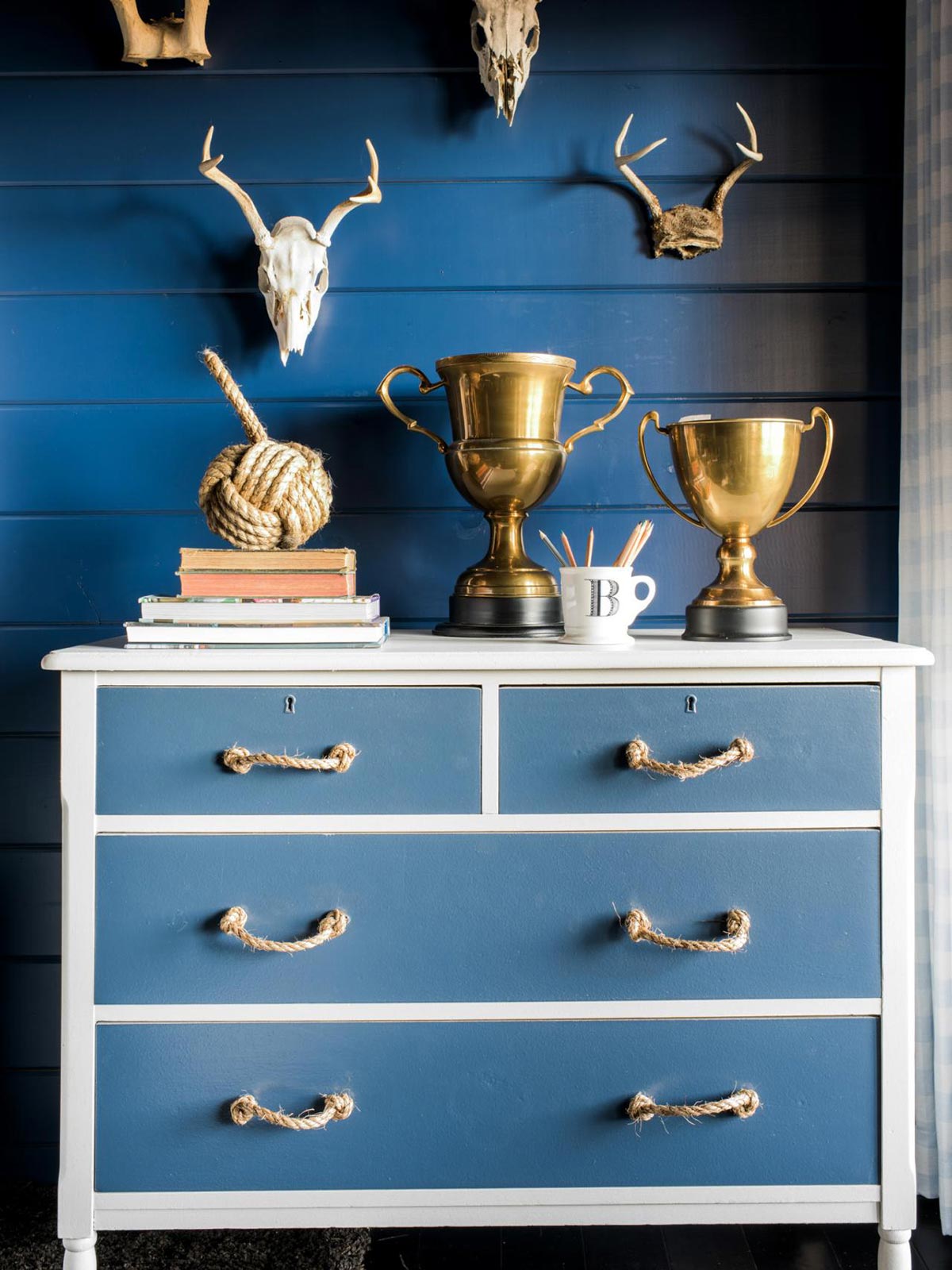 You can find a step by step tutorial on diynetwork | Image credit: Rustic White Photography