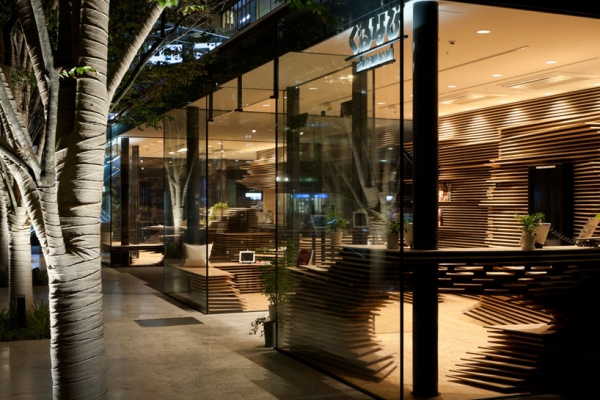 Interior design has many forms and this wooden interior design example is certainly eye catching. Different from what you would usually see the furniture, floor and steps in this 82 square meter building are constructed entirely from sheets of layered wooden panels. Kengo Kuma was the design company chosen by Gurunavi, who is a Japanese restaurant guide.
Using only layered wooden panels may seem like a strange way to build or in fact fit out a building but this has actually worked very well. The results speak for themselves and the wooden interior design is stunning. A natural atmosphere has been created that has many points of interest, we love the way it all fits together.
Wooden interior design is not a new concept but this style is something rarely seen, a simplistic view on how to create beauty with one single material. The layered wooden panels have been used to create furniture, such as the desk, shelving and much more. Brightened by accessories, the whole room becomes similar to a large piece of art, one that can be used and appreciated. Re-creating this look at home should be fairly easy if you wanted to try, but do not under estimate the amount of work and materials required to create your own wooden interior design.
Тext is copyright to ©Adorable Home – interior design and decorating ideas