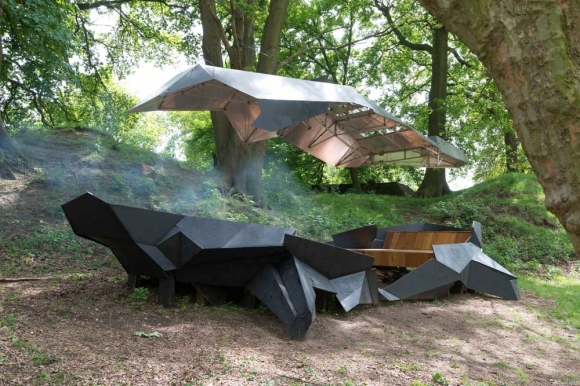 For most of us, a day in the park may consist of a picnic with a blanket and food, a bike ride, maybe a book on the grass, or even just a nice simple stroll through it. A lot of parks will even have little covered areas where you can escape the sun; small grills can sometimes be found around those covered areas, also a nice addition to the whole experience. Most of these covered areas or pavilions are usually a pretty standard square shaped or rectangular shaped area, scattered with benches, of course.
However, as for this unique pavilion, this is a whole different experience when it comes to hanging out in nature. Designed by Paul Stegers, the Stealth Pavilion was inspired by the Constant Nieuwenhuys' Utopian project known as 'New Babylon'. When you first look at this pavilion it looks like a spaceship from the far future that has split in half and turned into a fire pit and lounging area.
With its angular shapes and metallic black and grey coloring, this unique pavilion stands out starkly amongst the trees and rest of nature; as much as someone could argue it may not belong there, it is really a very neat space to have incorporated– a representation of technology and nature coming together in one area.
The seating design in this unique pavilion is truly quite excellent. With a fire pit in the middle and two large tiered platforms extending on both sides of it, there is plenty of space for standing, sitting, food, drinks, and anything else you may require. This design provides such a cool new way to enjoy nature, while appreciating what technology and art can bring to the world.