Viennese artist Klemens Torggler is here to reinvent your experience of space and doorways with his enchanting designs. The Evolution Door, or the Torggler Door as it is also known, is rooted in the designer's inventive and aesthetic sensibilities, and transform the traditionally rigid door into a sinuous kinetic sculpture. Engaging geometry and gravity into a dance of perfection, this unique door does away with the need for tacky rails, door frames or any chunky or superfluous additions.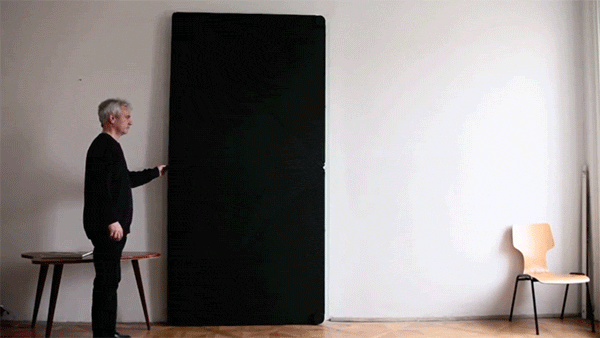 Inspired during the remodeling of his own apartment in 1997, Torggler began working on a door solution that broke away from the limited aesthetics and constraints of the conventional frame/rail options. Exploring the depths of creativity, Torggler invented this unique door that articulates as a series of square planes rotating to reveal and conceal the opening beyond it. The design employs the marvel of physics to do its work, using the force of gravity to enable its opening and closing mechanism.
A simple touch causes the door to fold like an origami sculpture, setting off one half in a rotating movement, thanks to gravity. Its movement sets off a counter movement in the other half, carried by momentum to rotate against gravity. What results is a weight-defying elegant dance of form and function that adds new dimensions to space, décor and movement.
Equipped with safety features such as anti-jamming protection and rounded corners, the Evolution Door is already on its way to the next level- commercial production.