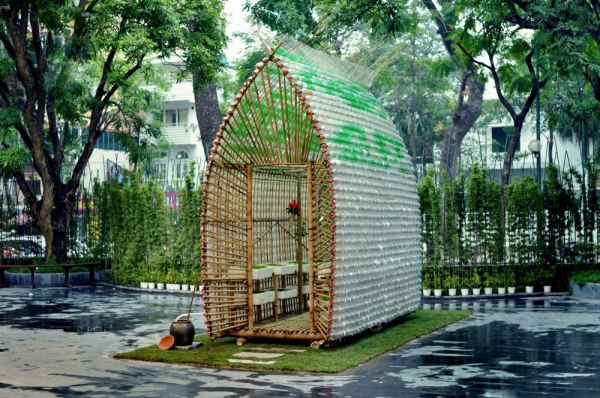 One of those innovative eco-friendly projects implemented in developing countries was the partnership between the governments of Ireland and Vietnam. Vegetable nursery houses made from bamboo and recycled plastic bottles were designed by the 1+1>2 International Architecture JSC. The project is located at the Soc Son District in Hanoi, Vietnam.
The total dimension of the bamboo arch at 6 square meters by 3.6 meters high offers a unique,  creative and functional design not only for the farmers who use it as vegetable nursery house but for the entire community that looks at it as a resting place and  shade in the middle of the rice paddies.  Since it serves a communal purpose, students and other locals contributed to collect the 2000 pieces of recycled plastic bottles that were attached to the bamboo arch. This served a dual purpose – to adjust lighting and temperature inside the structure needed to nourish the seedlings. To provide irrigation, water inlet trays were placed on the top of the structure. Perhaps the best feature of this vegetable nursery house is its lightness which enables the farmers to move it to other locations. The design and idea modeled by this project is not only replicable to other models, but a doable project nonetheless.
More info you can find on ArchDaily.