A giant Rolleiflex camera rests comfortably amid a suburban landscape, mirroring mutations in the shades and moods of its surrounding vista. The scene is almost surreal and mind boggling yet makes for some thoroughly amusing architecture. Bringing the vision of a camera enthusiast to life, the Dreamy Camera Coffee Shop is a café and camera museum located 60 miles east of Seoul, South Korea. Creating its own mix of function and appeal, it offers a playful pause in the landscape amid timeless sights and smells.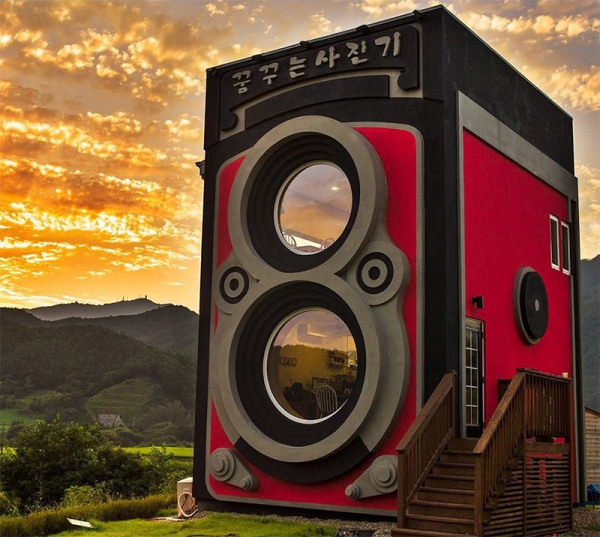 Set across two floors, this camera coffee shop offers delightful views of the panoramic environs through its large lens windows. As in the actual camera, these lens openings create a connection between the interiors of the building and its context- especially at night when they light up to announce its presence. The coffee shop is distributed across both floors, with the museum exhibits neatly encased in recessed wall cabinets.
The décor inside is calm and understated in sharp contrast to the exterior façade. It offers a warm, welcoming ambiance in any weather; the exterior face on the other hand functions as an advertisement board, enticing all visitors.
We love the bold and unapologetic grammar of this charming camera coffee shop, addressing the demands of aesthetics, economics and personal eccentricities. Love it or hate it, this one surely leaves an impression.