Take the edge of camping with this innovative accommodation system from Belgian designers B-AND-BEE. The camping pod system is sheer genius in its simple yet sturdy answer to the mud, mayhem and many challenges of sleeping in the middle of nowhere. Designed for the avid music-festival enthusiast, who has no desire for glamping neither the budget for hotel rooms, the B-AND-BEE camping pods offer a smart solution that find application in a wide array of settings.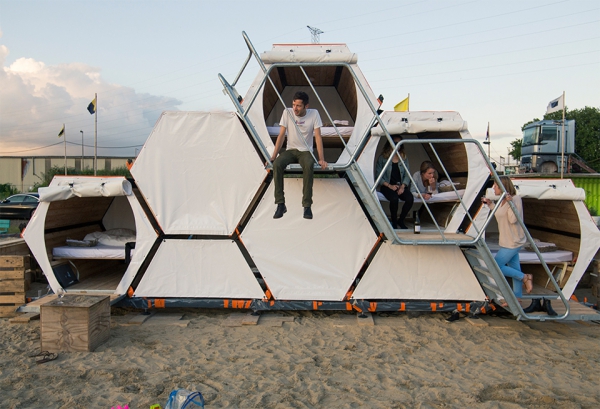 The hexagonal sleeping pods extrude a honeycomb arrangement to accommodate a king-size bed within each pod. Spacious enough for two people, the pod offers a perfect sleeping quarter at the end of a long, tiring day. With enough headroom available, the mattress can even be folded to offer a comfortable, informal seating booth.
The metal framed pods are finished in wood lending a functional cleanliness to the design. The exterior surfaces are envisioned as a canvas for free creative expression that integrates these camping pods further into the festival vibe. Stackable, the space-saving system can be extended into either dimension to meet the requirements of the site and event.
We think these camping pods are a great idea, especially for those who don't particularly fancy rolling in the mud – B-AND-BEE strike gold with their simple, sound and proficient approach to reinventing festival accommodation.