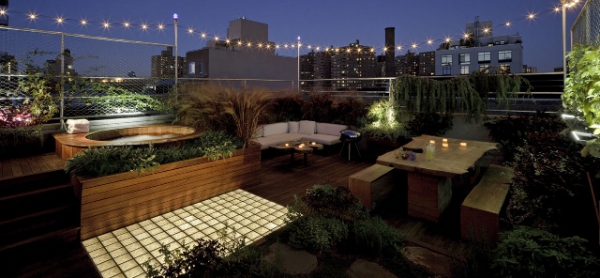 When the fast-paced lifestyle of a metropolis starts to overwhelm you, the thought of having a brief escape from it all starts to really get you thinking. You no longer have to think anymore, it exists! Take a break from all the hustle and bustle with this roof garden created by Robert Young Architecture and Interiors. Located in Lower Manhattan, New York in the United States, this skyline oasis provides you with the perfect lounge experience on cool spring nights and lovely summer evenings.
Various kinds of shrubbery and greenery help to keep this space intimate, while the outdoor couch and table set encourage the opportunity to have a nice cookout with close friends. A personal outdoor Jacuzzi adds another nice touch of luxury for those nights where you just want to sip on a glass of wine while being mesmerized by the city lights. This roof garden even has a little room for an area that you can enjoy some dancing on!
Whether you just feel like lying across the white couch with a good book or putting together a candlelit dinner for two at the table, this roof garden is the greatest paradise for all who seek it.