The Pont9 project is a bold and playful vision that gives face to the impoverished and ignored within the distinctive urban fabric of the city of Paris. A conceptual rendering of a nomadic micro city, these designs by Malka Architecture create bridges between the timeless permanence of the Parisian built environment and the temporal fabric of its inhabitants.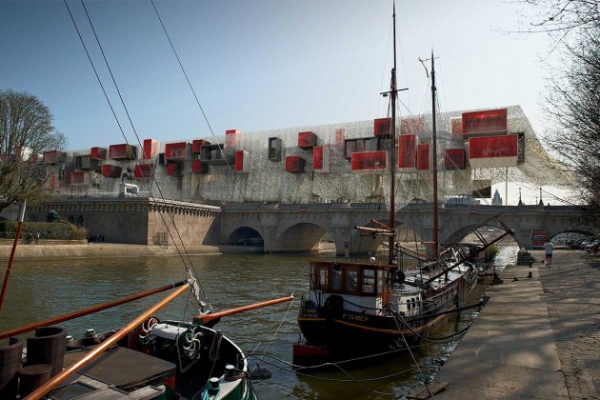 Anchored in and aimed at self-sufficiency, this 'voluntary ghetto' was inspired by the book Le Petit Pari(s) published April 2014. Rising over forty nine feet above the ground, the design introduces a network of cuboidal modular spaces that establish a grid of space and function on a scaffold superstructure. Public space, pylons and footbridges come together with these individuated volumes to weave an overlay, taking what is usually swept away and exploding it onto the urban face.
The Pont9 micro city includes residences for the homeless and downtrodden, as well as offices, canteens, art galleries, shops, recording studios and nightclubs run by residents. This is a dynamic metropolis that is not only flexible in its articulation but also in its essence. The micro city adapts not just to variations in site configurations and open spaces, but also fluctuations in the number and nature of its inhabitants. Its scaffold structure makes disassembling and moving the ghetto swift and simple.