Chilling in hammocks is a great way to take the edge off and carelessly sway in the wind while enjoying the scenery. How would you like to have a place you can escape to nearby that gives you a feeling similar to relaxing on a beach or island, but with childlike wonder? In Atlanta, Georgia, The Woodruff Arts Center has come up with an interactive design installation that not only includes its students but involves the whole community. Designers Hector Esrawe and Ignancio Cadena created this concept in the hopes of sparking imagination, connections, play and excitement.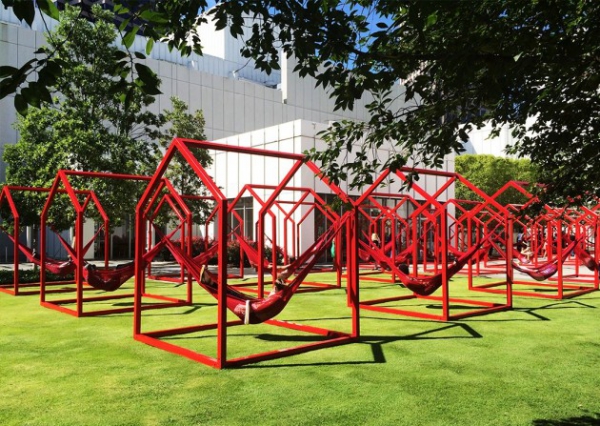 Known as "Mi Casa, Your Casa", this interactive design installation was a part of Esrawe and Cadena's resident program. Located on the Siftly Piazza of the Woodriff Arts Center, this concept incorporates hammocks that are accompanied by bubble water, bins of chalk and an easel. Each hammock is encompassed by a house-like frame that gives a sense of identity and togetherness for everyone. Simple yet dynamic, it is obvious that this design was also created to help bring out the unique creative expression that each individual possesses.
What makes this interactive design installation special is that it was birthed by designers that were already apart of the arts center. Having that kind of collective perspective is what makes the arts so universal!