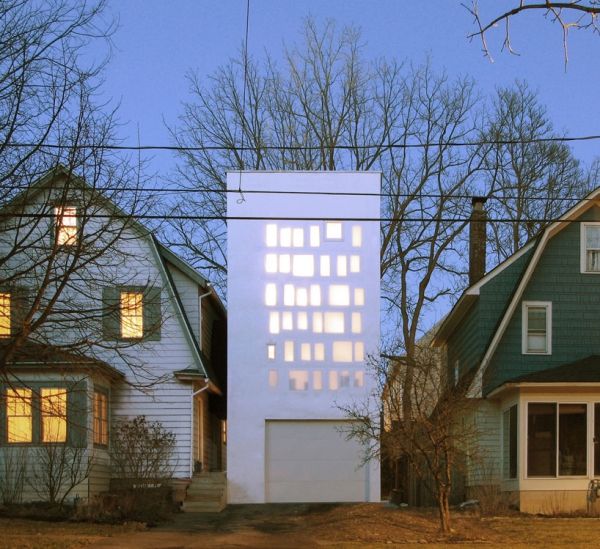 This unusual studio has been built to fit perfectly between 2 buildings, which helps to show off how unique the building really is. Designed by John Lott, from PARA-Project the modern building is actually a writing studio that has a reading room, library and garage underneath. The unusual studio has become somewhat of a local landmark with it's futuristic facade but it is the inside that captures your heart.
This unusual studio has hidden beauties within it's white walls – there is a marvelous sunken bath with a view, ingeniously designed book shelves are one of the biggest features of the studio and we love them. Bright airy rooms are painted white, with high ceilings and low maintenance flooring. All of the color inside the unusual studio comes from the beautiful books. The studio is sparsely furnished which just feels right in this odd building.
Although the studio may look strange between 2 traditional town houses you can see for yourself just how a modern building can be sited to enhance the others around it. The exterior of the writing studio is different yet attractive in so many ways, especially at night when it is lit from within and each of the windows has a rosy glow.
Text is copyright to ©Adorable Home – interior design and decorating ideas