Inspired by the sinuous curves, delicate embrace and generous volumes of sea shells, Milan based design house DesignLibero brings us a fascinating overlay of an organic experience with modern technology. Embodying timeless natural sensibilities, the 'Mother of Pearl' home spa offers a space for tranquility, meditation and relaxation. Sensitive to the space at hand, the fittings and technology are here seamlessly integrated into the unit, enhancing its experience instead of interfering with it.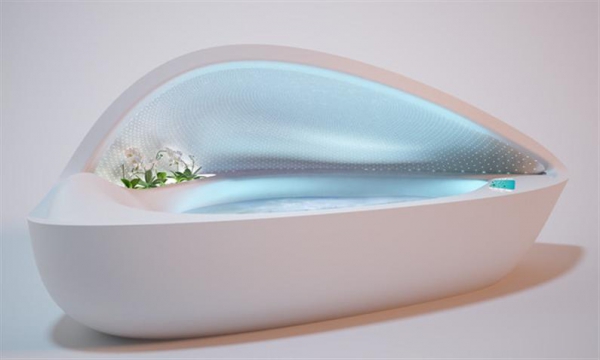 The home spa offers a cocoon to unwind within; its graceful profile encapsulates the femininity and nurturing one finds amid natural surrounds. A fluid movement of surface and form articulates the final unit, silently paying homage to the impeccability of organic creations. The taps and showers are concealed within the unit, keeping the overall profile clean, calming and clutter free. A planter too is accommodated within the folds of this luxury tub, bringing a touch of the outdoors to your most personal of moments.
This home spa is also equipped with a touch interface that combines an array of lighting, sound and aromatherapy effects to help your relax and unwind at the touch of a button. The interface has a few preset wellness programs – such as tropical pleasure, fun, relaxing and energetic- or you can create and save your very own settings for a custom-made experience.