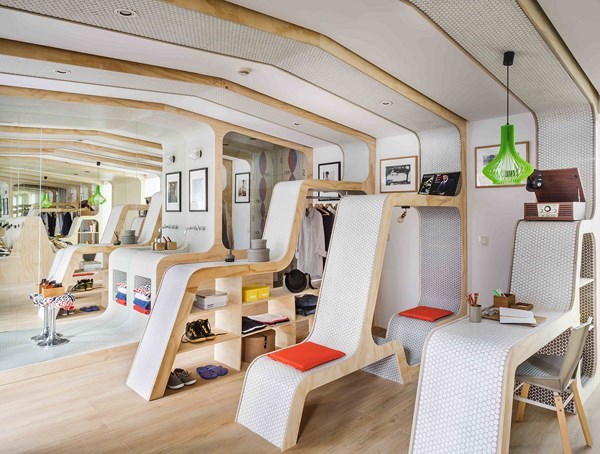 Paying homage to the trailblazers before our time is always honorable. It's also a great way to show the masses a piece of history that they may have not been exposed to before. This is exactly what the modular arcades exhibit accomplished recently. Hisbalit, a leading glass mosaic company in Spain, recently commemorated their 50th anniversary. Being that this is a huge milestone, they decided to incorporate the work of past influential architects that have paved the way throughout the years. The exhibit was on display in Madrid at the CasaDecor event last month and included a tribute to Le Corbusier to showcase the architect's original scale of measurement, called Modulor.
Partnering up with Zooco Estudio and utilizing the Identity Mosaic collection gave Hisbalit the opportunity to diversify their glass mosaic style with pictures and modular arcades that benefits the user in a way that easily adjusts to their daily routines. This challenges the regular style of making the user work around the constructs of the room. The color scheme of modular arcades may look like a normal neutral palette but was actually skillfully picked according to the chromotherapy techniques used by Zooco Studio. The colors chosen promote tranquility and clarity.
With the pioneering designs of modular arcades that adhere to your needs, colors that boost productivity and relaxation and an open space layout that encourages a new style of Feng Shui, you're guaranteed a great home experience!