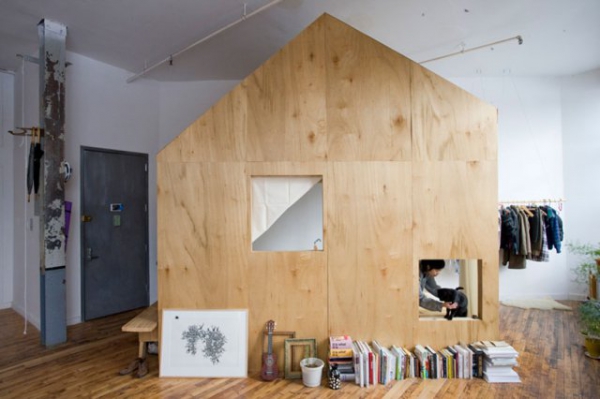 A stroke of design genius is the best way to describe the inspiration behind this unique and cozy small space, created by architect Terri Chaio. The Brooklyn loft actually comprises a single larger room which houses a smaller more intimate bedroom space. This duality is facilitated by the high ceiling and wide space in the cottage.
In the larger room, the decorator has arranged furniture and accessories in such a manner that the living and sleeping areas are distinguishable. The furniture is also kept to a minimum, enhancing the appearance of ample space.
The main room comprises wooden flooring and houses the sitting or living area which is identified by a fluffy dark grey area rug and a sofa small. It also accommodates a small inside garden with several potted plants standing just below a large window.
A short flight of wooden stairs leads from the main room to the smaller bedroom which is partially suspended to make room for a neat and private work or study area below. The light brown wooden finish of the floor blends perfectly with the wooden walls which have a similar hue. The light colors used for the bed linen provide the contrast.
This is the ideal place to live if you adore the simple yet comfortable lifestyle.
Тext is copyright to ©Adorable Home – interior design and decorating ideas