Just because you live in urban homes doesn't mean you're limited in the comforts of an outdoor area. An interior designer or decorator can transform balconies, terraces and other rooftops into homey, comfortable escapes akin to backyards in suburbia.
What are the elements of these comfortable atmospheres? When asking an interior designer to create such spaces, here are some ideas to keep in mind for creating the perfect outdoor escape:
Stringing up some lights

While downtown areas have no shortage of lighting, they don't always add the right ambience or accenting. That's why you add personal touches to the balcony or terrace attached to your space. Whether it's standing lamps, strung-up lights or lamps installed into the wall, make sure to add just the right amount so it's comfortable and cozy at night. Even adding a fireplace—probably electric or gas-powered, not wood—could be just the right lighting for the space.
Creating a family atmosphere
Photo courtesy of Ideas & Solutions
Akin to a suburban backyard, balconies and terraces can have elements to meet the needs of children and families. A smaller than normal play structure can fit on terraces like the one shown below in New York. Large enough rooftop terraces have room for outdoor dining: table, chairs and even outdoor kitchens and bars. To complete this family-friendly landscape, have a designer buy and install potted trees and bushes near the roof fences to blend everything together. That way, the terrace looks more like a yard rather than atop the skyline.
Seating for everyone

If you want to host parties at your condo during the warmer months, then it's important to have seating for everyone on the balcony or terrace. Why not have the same kinds of comfortable chairs and couches as the living room? Assembling couches and chairs around a table or fire pit allows everyone to be close and easily hear one another. Consider installing electric torches for warmth in case the temperatures drop at night, lighting and landscaping to evoke a natural feel. Everyone will be socializing and as though they're at someone's house with a breathtaking view of the city beyond.
Grill like it's a backyard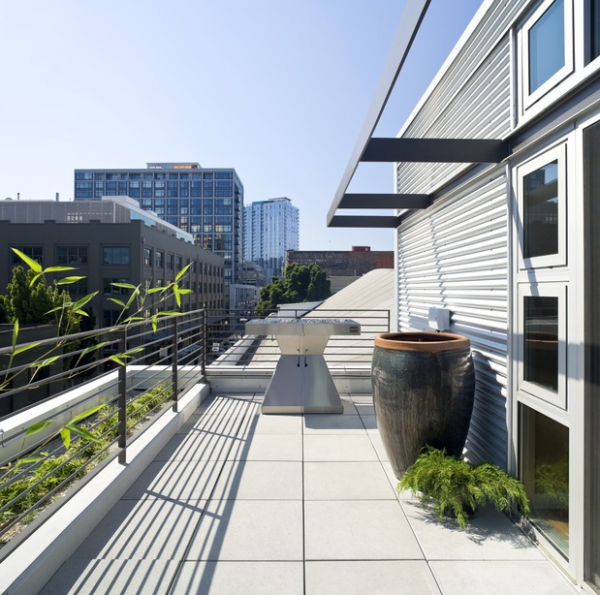 One of the most popular events in backyards is grilling. The host or hostess will fire up the grill and cook burgers, hot dogs or other delicious items to share with their guests. This is an option urban hosts have as well. By installing a grill a safe distance away from the walls and roof of their condo or apartment, the balcony or terrace becomes a cooking space as well as a place to mingle. Just be sure the fire doesn't get too high, and if you install a fabric awning over the balcony area, to keep the grill away from it.
This article is written by Andrea Davis from HomeAdvisor. Photos courtesy of DesignMine