A wonderful way to decorate without breaking the bank, is to use posters. They are not limited to the bare walls of college dormitories and first-year apartments. When used the right way posters can be chic and stylish, adding a customary signature to home decor.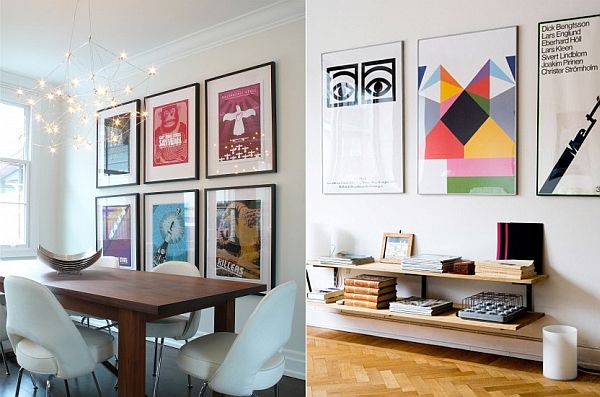 Posters cost significantly less than original artwork, but still accomplish the task of brightening up walls.
They come in various models, styles, and sizes, and can be custom-tailored to fit in every room. They brighten up bathrooms, create interest in living rooms, and add a modern touch to dining rooms. In entrance ways, they are the perfect accent, adding color, while keeping the space free of clutter.
When it comes to a choosing a poster, the options are limitless. Reproductions of original artworks, design covers, vintage french posters, portraits of actors and actresses, favorite movies, are all available for purchase.
There are many unique ways to use posters.
They can be framed or unframed, depending on the design of the home. There are minimalist frames, large baroque frames, clean-lined matte black frames, among many other options. They can be collected in a particular area, or spread out between different spaces of the home. A wonderful way to create interest is to contrast the shapes and sizes of the posters. Different colored frames and different sizes in close proximity, creates an extremely stylish look, that adds creativity to any home. Large, wall sized posters, are another option. They can be framed or bare, and be used as a focal point for the room.
With posters, decor can be rearranged at any time.
Change a collection of posters on the wall by switching out one poster for another. It is also possible to change the accent colors in a room by changing the posters or the frames.
Posters are not the only affordable option for home decor, variations of posters, work as well. A banner оr a vinyl sticker can add a little oomph to any home design.
Collectively, these three things can do wonders for the bare wall, making it possible to affordably decorate any home.