It's summertime! Time to take a gander at all the porch and patio design ideas, and design a little outdoor heaven of your own!
This first one has an absolutely wonderful combination of shabby chic and contemporary furniture. The white wood and warm wood play well together, creating a wonderful contrast. The paper lanterns add a lovely playful touch.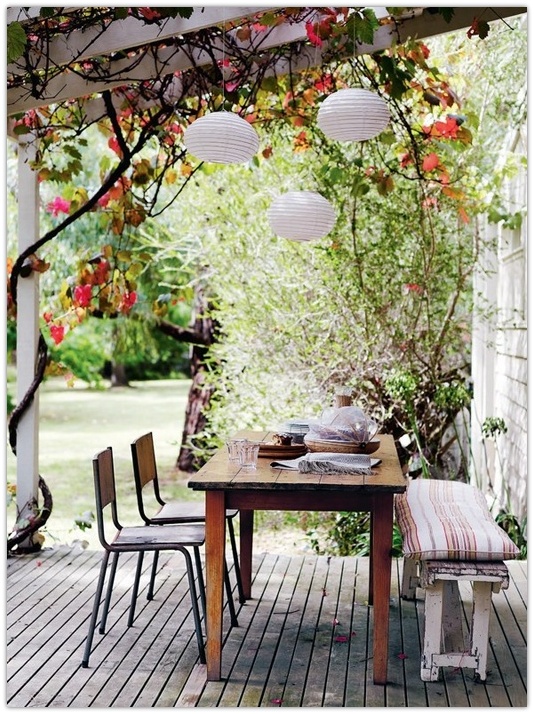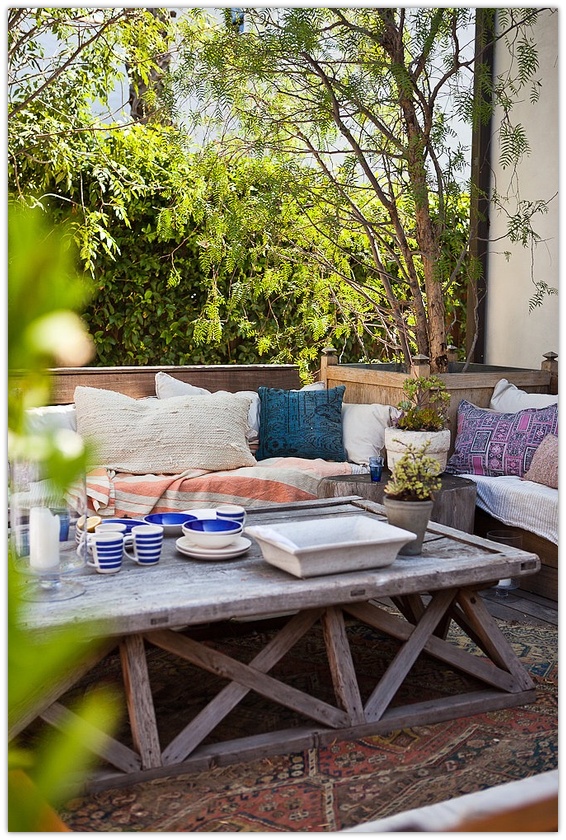 This one is nice and cozy, tucked away in a corner, with its natural wood table and colorful pillows. The area rug, used outdoors, is a nice touch, and it looks gorgeous with the patterned pillows.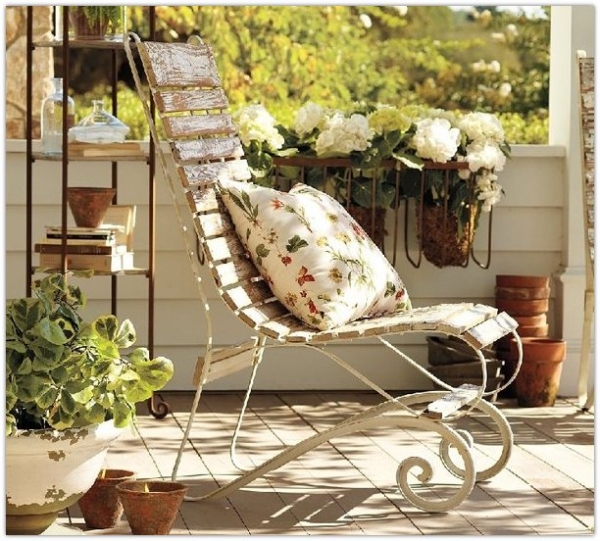 Who says outdoor space has to be big? This singular space, is one of those porch and patio design ideas tailored for small spaces. The white shabby chic rocking chair, is absolutely gorgeous. We also love the floral accents. Simple and chic.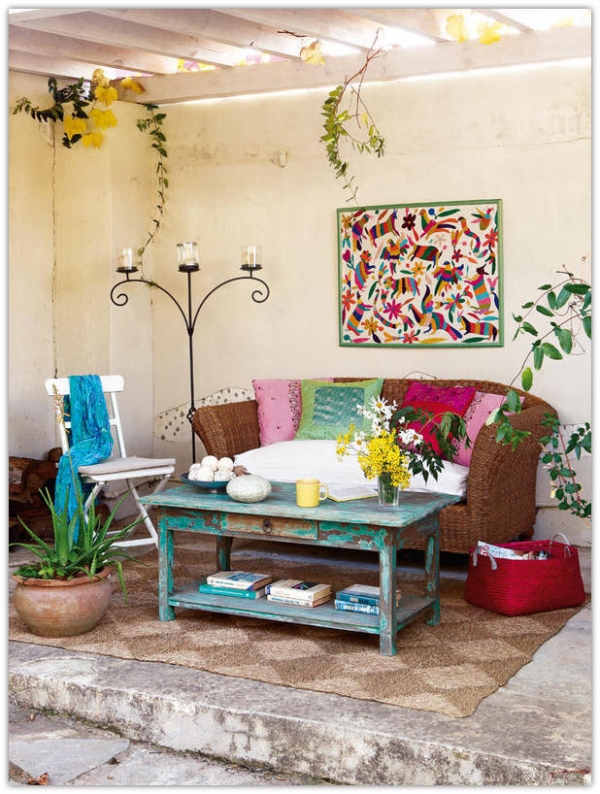 Wicker and worn furniture look fantastic in this space. The artwork framing the space is a spectacular touch, it brings a little of the indoors, outside.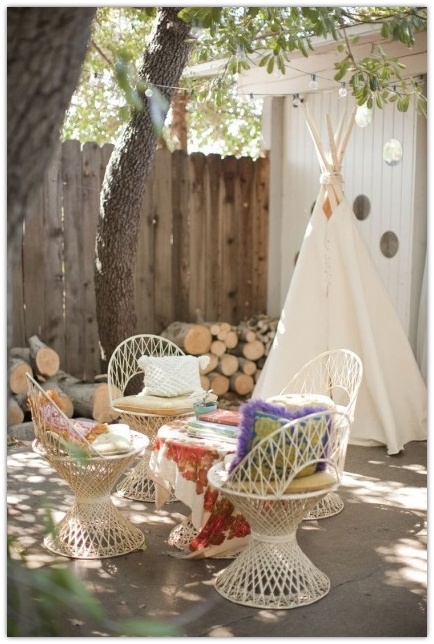 This cream patio is positively adorable. It looks like a place where we'd take our tea. The intricate chairs and tepee, create a unique and darling atmosphere, using a unified color palette.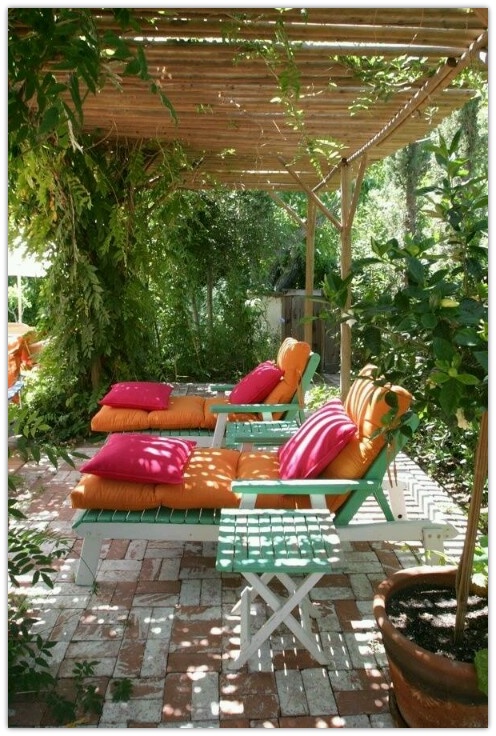 Bright oranges, greens, and pinks, come together to create a lively patio. The placement of the pergola in this design is absolutely fantastic. It collaborates with the lush greenery to provide a protective and enclosed space.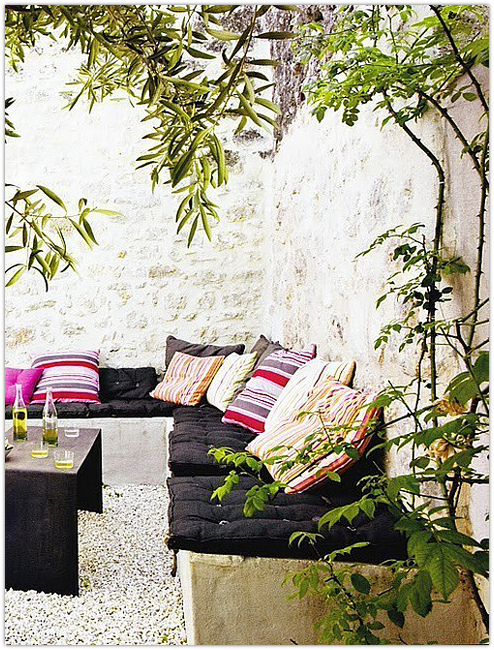 We love the stone and gravel use in this design idea. The black cushions contrast beautifully with the stone, and the colors add that burst of color we love so much.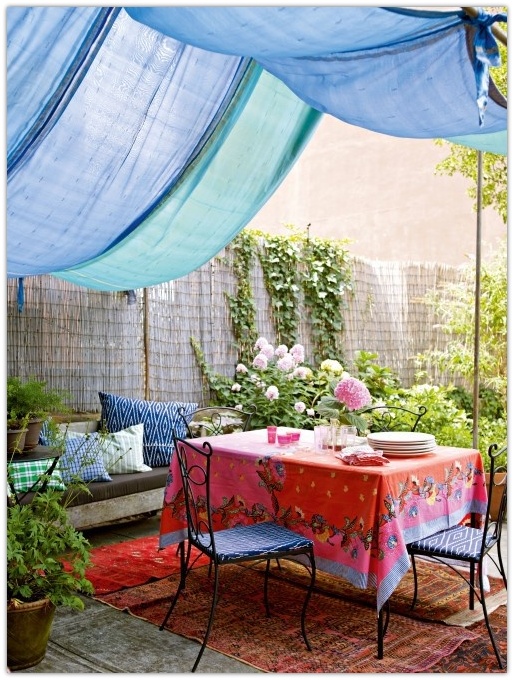 The colored fabric covering is a lovely touch. Bright colors and the area rug, create a sprightly and interesting space.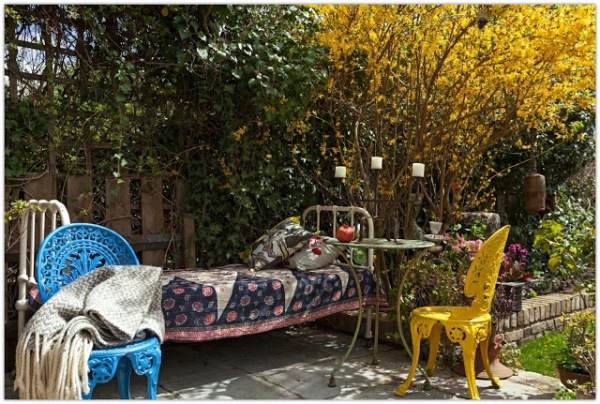 We adore this one. A creative use of a twin bed, gorgeous bright chairs, and a candelabra, surrounded by nature, makes this one of the most creative porch and patio design ideas.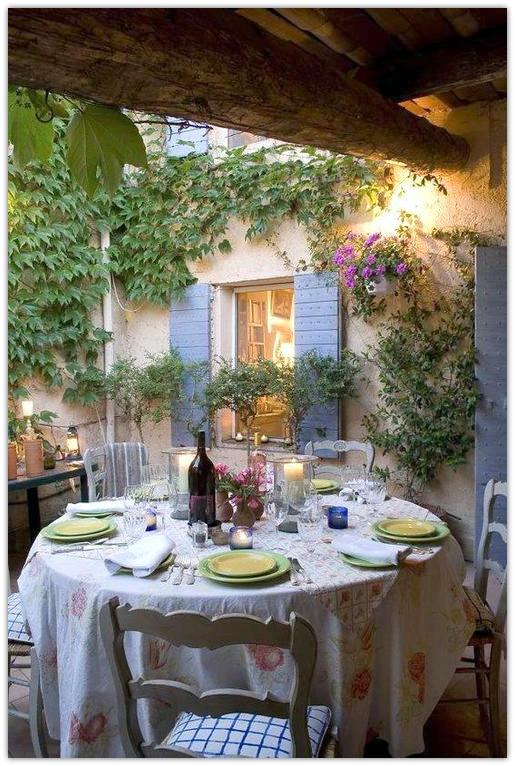 This charming country patio is perfect for those outdoor summer dinners. The chairs are particularly fetching with their blue and white cushions.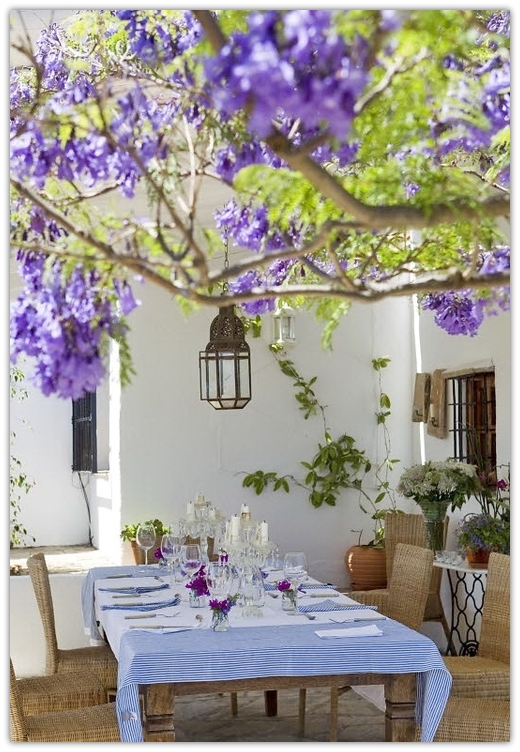 Gorgeously clean-lined and simple, using all wicker furniture. The wicker furniture is absolutely stunning, and the blue and white tablecloth gives the space an inviting dose of pizazz.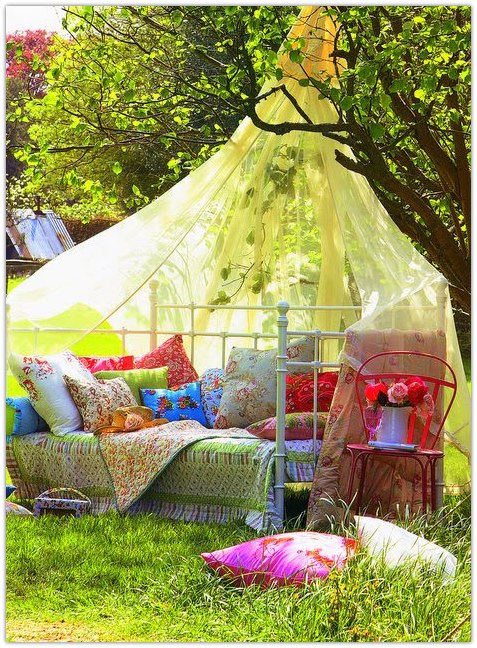 You definitely don't need a specified patio to have an outdoor space. A gorgeous canary yellow canopy hangs from a tree, protecting the bright and colorful daybed. Floor pillows, flowers, and a red chair, complete the space, creating an awesome impromptu patio.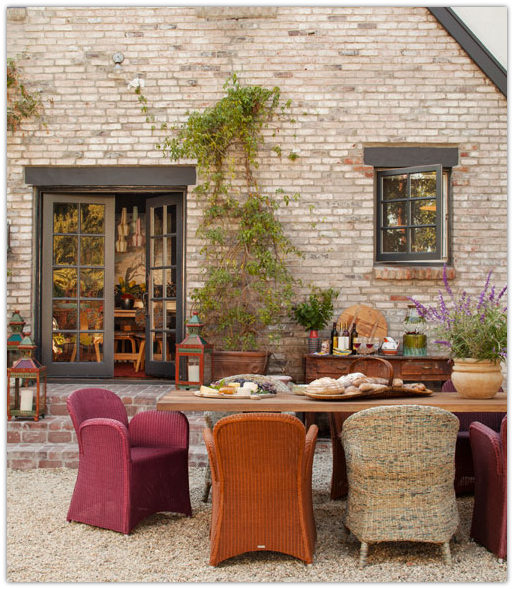 The warm colors used here contribute to the comfort and beauty of this patio. It also connects it with the warm exterior of the home.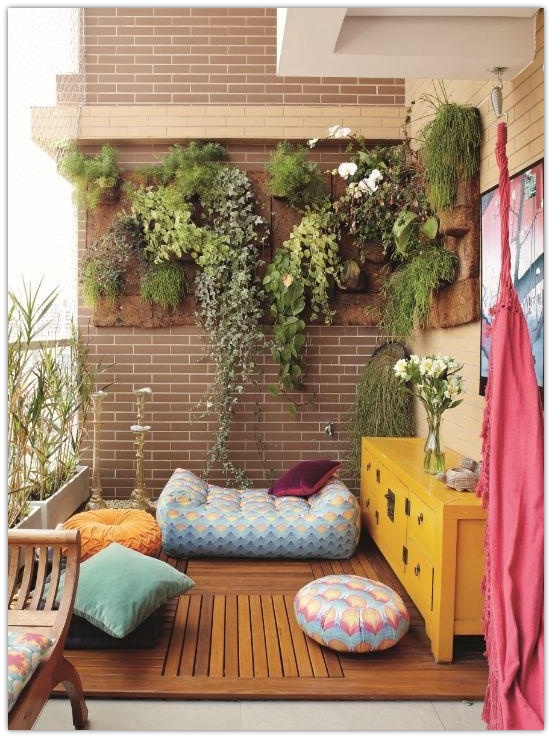 We're really enjoying these porch and patio design ideas using indoor furniture. The yellow dresser, warm wooden slats, and floor pillows, create a cozy and charming little nook. A perfect space to relax.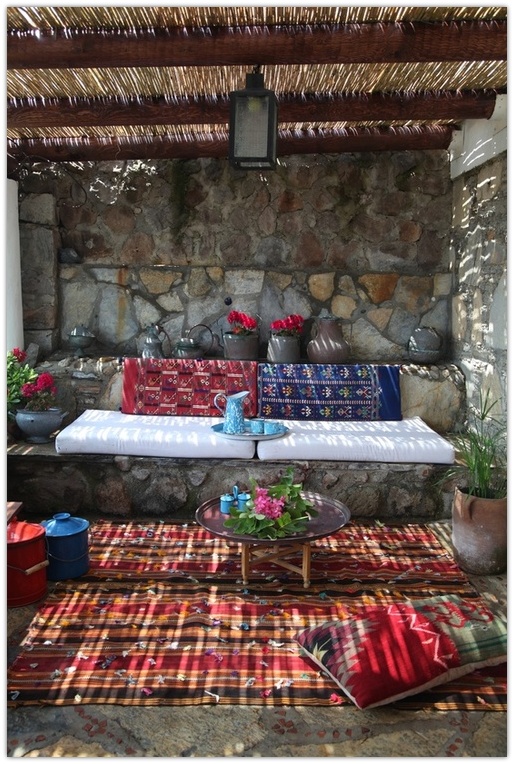 The stone and covering in this outdoor area is absolutely gorgeous. It combines the indoors and outdoors, creating an enclosed space, providing protection and a little bit of intrigue.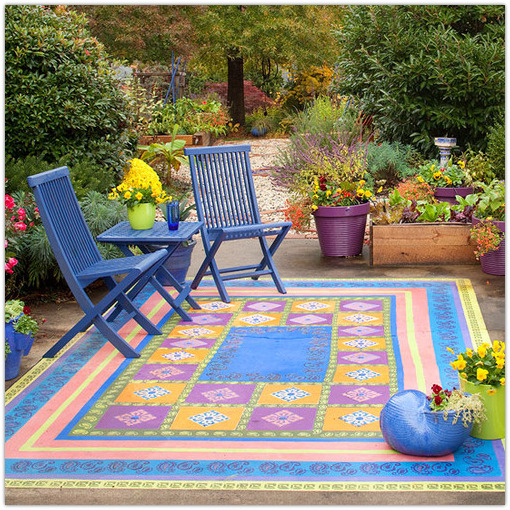 The bright pastels are positively stunning in this space, creating an interesting and unique opposition to the deep green surroundings.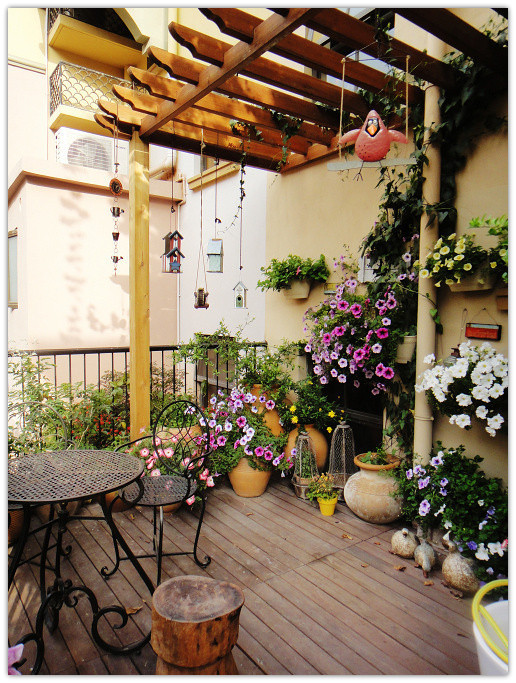 This is another great idea for your porch and/or patio. You can fill it with lots of gorgeous plants and flowers, creating your own personal wonderland.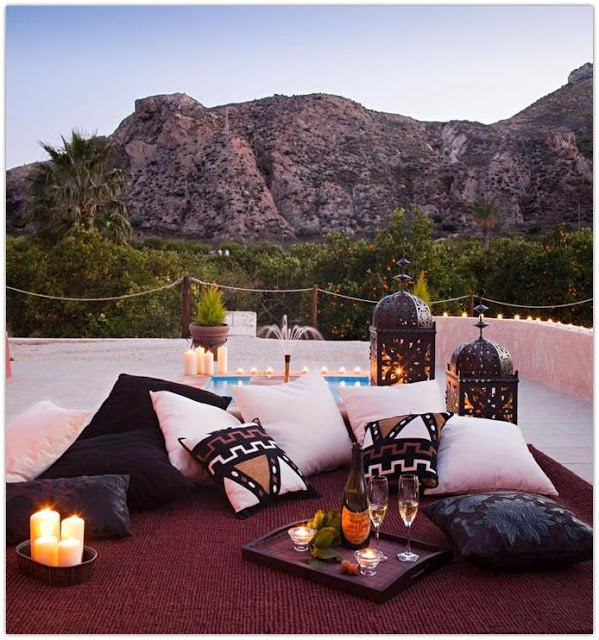 Images found on: Pinterest
It is also not necessary to have furniture on your porch or patio. You can fill it with rugs, pillows, and gorgeous decor, and still create an enchanting space. Wow! Look at that view.
You could use indoor furniture, beds, bright colors, or traditional furniture, the possibilities are endless. Hopefully, these wonderful ideas have sparked your imagination, leading you to create your own outside magic.