We rarely come across home office designs that are this lively and unique. This home office, designed by M. Design Interiors, is wonderfully eclectic and fun!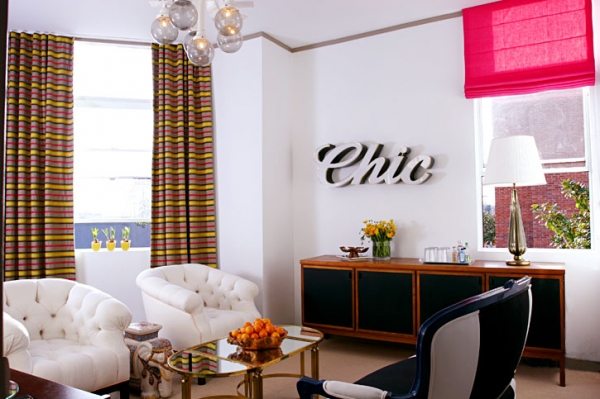 In the sitting area, there are two luxuriously tufted white chairs and a glamorous striped love seat. A gold trimmed glass table sits in the middle of the seating area, adding even more glamor to the lively space. In between the tufted white chairs, a white elephant-shaped side table, adds beauty and interest to the design.
On one side of this lovely room, a handsome wooden console is decorated with an elegant vintage lamp, yellow flowers, and a fantastic sculpture.
The large windows allow for a lot of natural light, and are creatively decorated: one has a hot pink shade, and the other has long striped curtains.
The unique ceiling light and mirrored chic sign are wonderful touches in this home office, adding even more interest and creativity.
On the other side of the seating area, two gorgeous mirrors, with orange creamsicle colors, sit on a beautiful wooden bookshelf. On each side of the mirrors, brilliant vases with luscious greenery, decorate the space.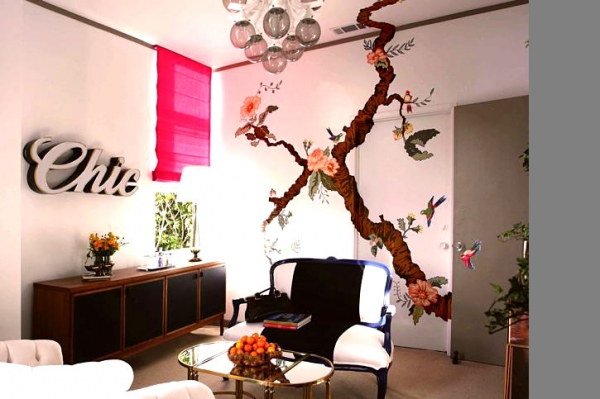 The back wall of this home office is decorated with stunning artwork. A rich brown tree branch crawls up the wall, and it is surrounded by colorful birds, lovely green leaves, and vibrant peach flowers: absolutely delightful.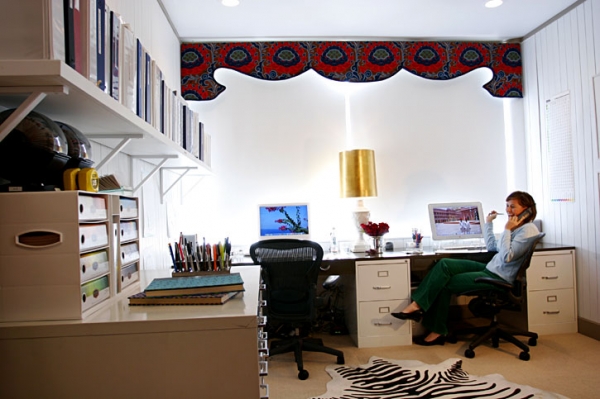 A red detailed valance frames the large window. Below the window, file cabinets provide the support for the sleek tabletop.
On the tabletop, an ornate gold and white lamp, and a vase full of red flowers, decorate the space.
White shelving and storage, and a white paneled wall fill both sides of this gorgeous room.
Spirited and superb.