This LED wallpaper won the Best of the Best Award at the Interior Innovation Awards in 2012. Created by Ingo Maurer, these wallpapers are delightful with their fantastic design, bright lights, and interesting colors. We love the combination between the green and red in this design. This could be a fun wallpaper for a kids' room. Not only could it add an adorable burst of color to the design, but it could also act as a nightlight: clever and fascinating.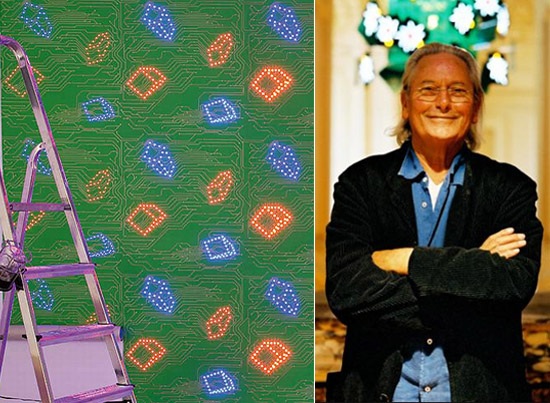 The LED wallpaper is composed of aluminum and ballast panels that are three hundred and twenty centimeters tall and sixty centimeters wide. They have forty eight white LED lights, sixty blue LED lights, and sixty red LED lights. Currently, they come in a green or white base, but there's a possibility for more colors in the future.
They can be hung using various amounts of strips and in different lengths, allowing them to fit into any architecture or design. So, if you have a weird wall in your room, or your ceilings are uniquely high or low, these will still work for you. This also provides wonderful customization options if you want to get creative with your wallpaper.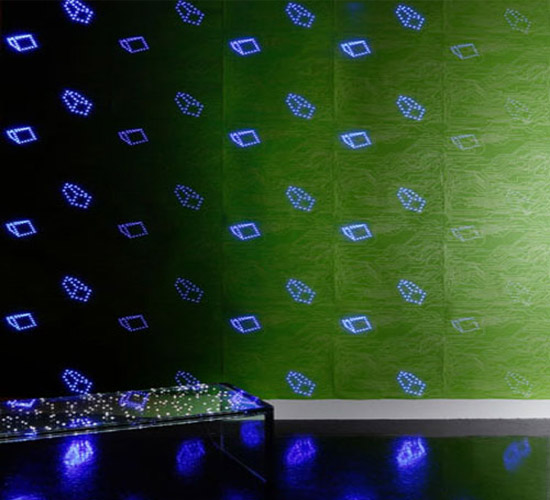 The blue and green combination is delightful. The color palette allows you to add a little pizazz to your home décor and maintain a simple and cohesive design.
These wallpapers are also perfect for an office. They would definitely liven up the design of your work space, adding a little playfulness and cheer to the atmosphere. We see a dark wooden desk and a beautiful modern or futuristic chair, framed by this outstanding LED wallpaper.