Latest trends in interior decoration show an ever increasing in popularity personalization demand. And while a couple of years ago this was limited to just displaying a few family photos, human ingenious creativity, backed up by contemporary printing technologies, is nowadays offering other attractive options.
Canvas prints are among the most popular ways to personalize the home interior. They combine the best of two worlds – photography and fine art. In quality and end-effect, these prints successfully compete with any posh and expensive artwork, but are actually way more budget-friendly.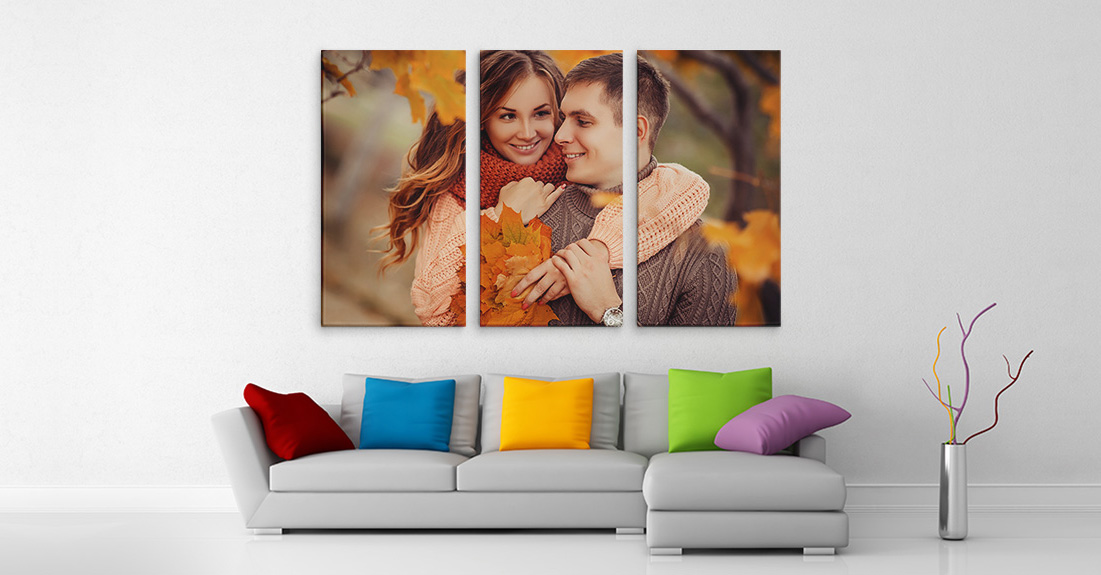 The best feature that makes canvas prints so popular is that you can totally personalize the image. Apart from abstract drawings and breath-taking land- or city-scapes, you can actually have a wall-artwork displaying any image of your own choice, be it the faces of your loved ones or precious moments to remember.
Canvas prints "wow" with premium quality and artistic professional rendering of the image. The canvas panel is of top quality poly-cotton material specially treated for UV- and water-protection. This coat also ensures high durability and vibrant colors that would not fade with time.

Another strong feature canvas prints have is that they are offered in a variety of convenient sizes and options to choose from.
Have a look and be inspired!
Single Panel Canvas Prints
Such prints display an image/photo transferred onto a single canvas piece in a variety of optimal sizes and edges. These 'pictures' stand out as impressive artworks on the wall, and normally come ready-to hang, supported by wooden wrap-resistant frames and provided with the needed hanging hardware. Unbox, hang and enjoy!

Rolled Canvas Prints
These prints offer the same excellent image and canvas quality, but also the freedom to choose from a large variety of custom sizes. Best thing is that the picture comes non-framed, which permits you to choose the frame yourself, or display it unframed altogether.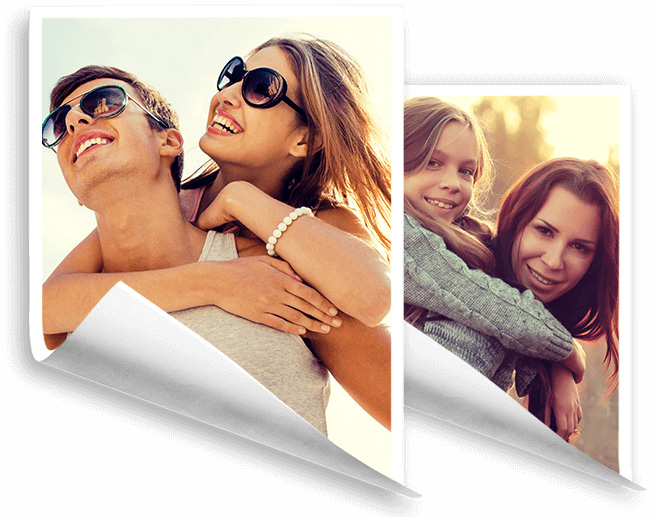 Split Canvas Prints
These are prints of a single image transferred onto a few separate canvas panels, never compromising on the quality of material, or the picture's proportions or vibrancy of colors. Arranged in close proximity, yet set apart from each other, the split canvas prints make extremely impressive wall-décor that creates a show-stopping focal point in any interior space. The pieces are usually offered ready-to hang, supported by thin internal wooden frames.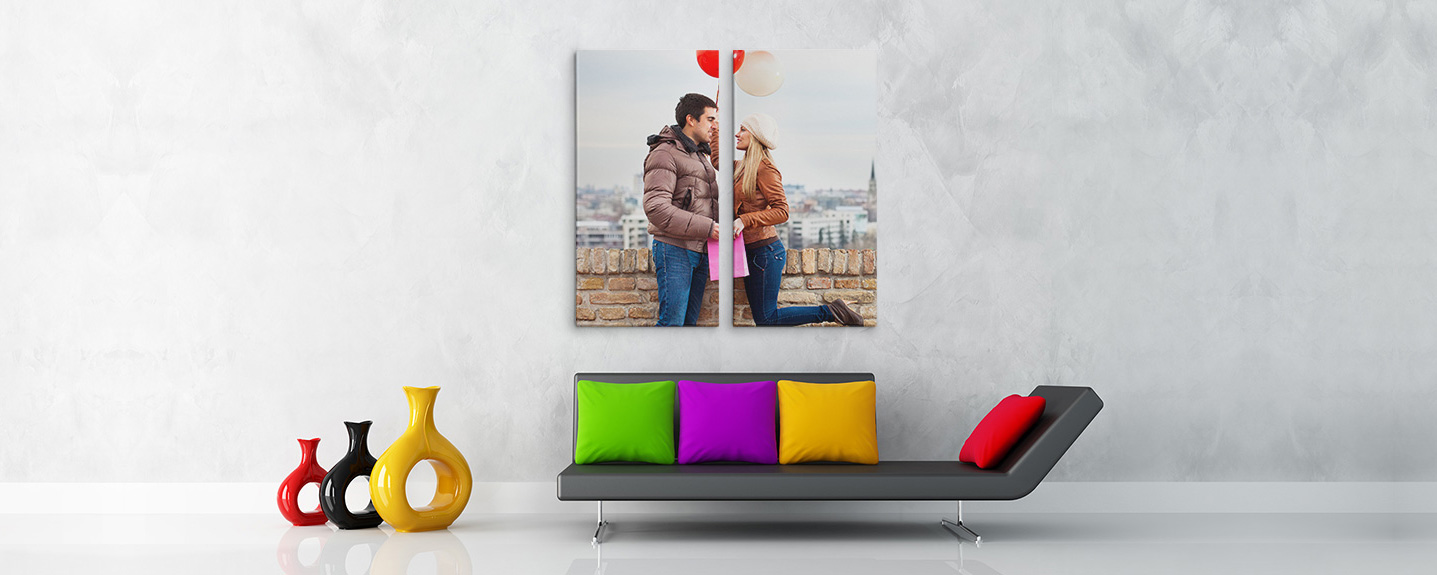 Hexagon Shaped Canvas
Displaying pictures or family photos onto whimsical hexagon-shaped canvas panels have become a popular trend in wall decoration of contemporary homes. The separate prints come in hexagon shapes of a variety of sizes, and you can also choose from different wraps and different borders. The shapes allow creating unique collages to fit on any wall space.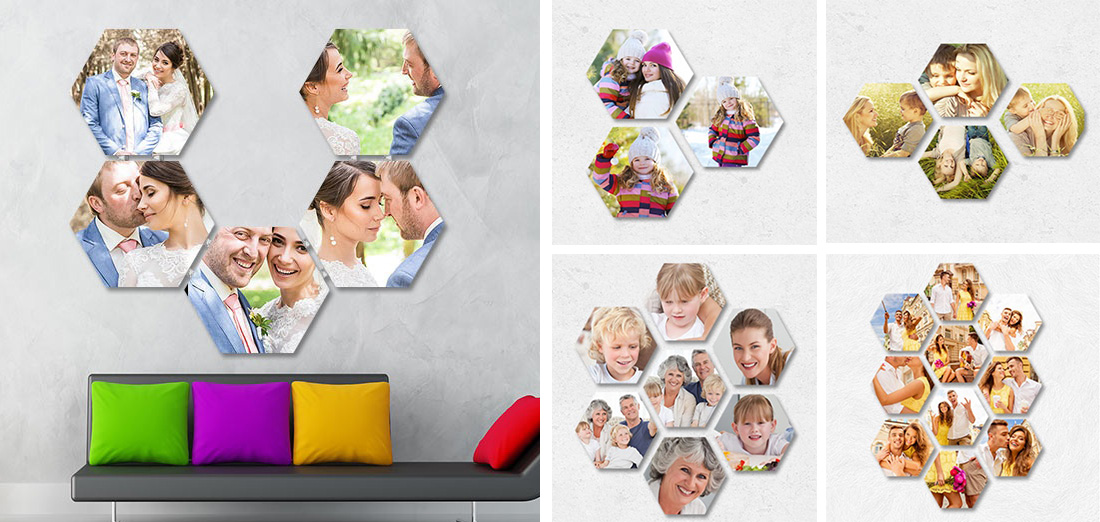 Lyrics on Canvas
Speaking of personalized wall-décor, there's nothing like having your favorite quote, poem or song lyrics written on the wall.  Well, in this case, on a high-quality canvas print! You can order any text to be displayed, choosing from a wide variety of beautiful professionally crafted fonts, and in a color of your choice. Backgrounds may vary, too, from abstract or watercolor, to pictures or family photos.

Others
There are also many other print-on-canvas options to satisfy your creative solutions of personalizing your home interior. Here are a few of these:
Personalized canvas wall displays. Make a stunning exhibition of stylishly personalized photos of your loved ones! You can have one to several photos printed on thin-wrap canvas panels in a variety of sizes, ready to hang and display on any suitable wall.
Canvas photo– Re-live all those special moments in life you wish to ever enjoy over and over again! You have the freedom to choose your photos and the collage-options for best presentation.
Popup canvas prints. Love pop-art? Now you can make your statement through having your favorite popart piece(s) displayed on high-quality canvas panels, for everybody to see and marvel. Popup canvas prints are not only impressive, but are also a great piece of conversation-starter.
Large canvas prints. Size matters when you wish to display the beauty of what deeply excites and moves you. Be it a memorable moment or face, or a stunning piece of fine art, when displayed on a large canvas print, its effect is priceless.
Panoramic canvas prints. Looking for an epic wall-décor? Try a panoramic canvas print! Printed on fine-quality canvas and displayed on a feature wall, those dramatic panoramic views can make all the change of the space – from dull and boring to 'wow'-impressive.