A fresh take on the demands and finer points of indoor gardening, this refreshingly playful product from designer Seungbin Jeong dwells in originality and a touch of whimsy. A unique way to drip feed your plants, these creative Rainy Pots integrate a fantastically simple and straight-forward irrigation system with a neat and pleasing template.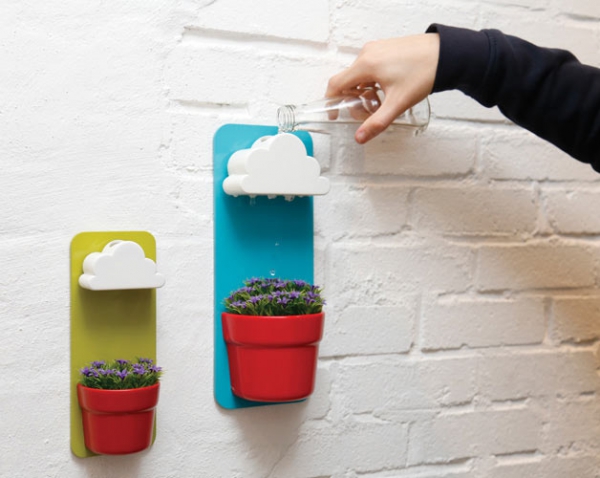 Finalists in the 2013 Spark Awards, these wall-hung planters are designed to address the needs and concerns of indoor plants. They usually have shallow roots and when over watered can rot and die easily. In response these creative Rainy Pots have a water storage facility in the form of a cute cloud that stores, and uniformly and gently irrigates the plant with raindrops. This not only makes for a captivating visual and experience, it also ensures uniform watering. Further it does away with the need for a watering can which can be quite a hassle to use indoors. The system also enables easy drainage – water can be drawn out into a cup by pulling free the plug at the bottom.
Available in bright, cheerful colors, these creative Rainy Pots encapsulate a childlike innocence and fantasy in its design that makes indoor gardening a whole lot more fun. A great way to brighten up your indoors, these look just as good in your front room as they do in the play area.