Translating art into a nifty décor option, this fascinating collection from innovative Dutch design house NLXL does not fail to inspire or delight. Inspired by 3D art installations by artist Ekaterina Panikanova, the Biblioteca wallpaper brings a touch of timeless intimacy to your home and walls.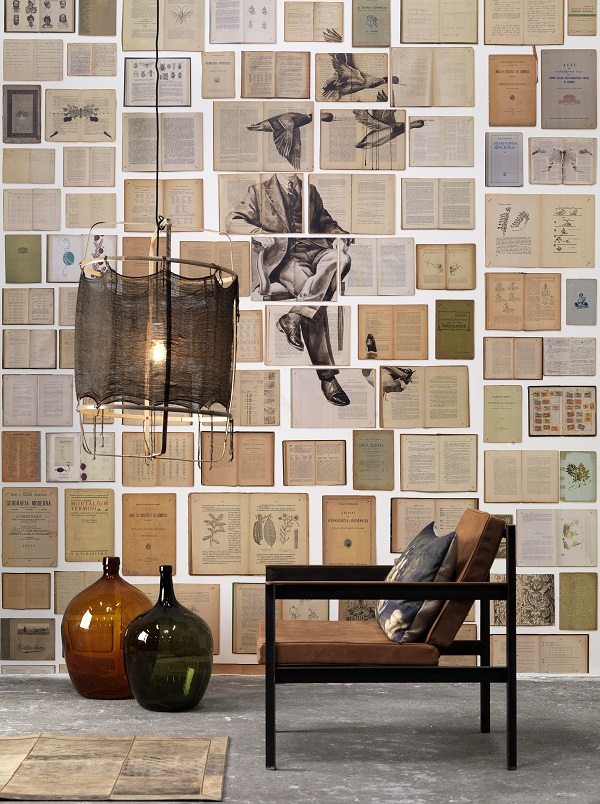 Offering a unique juxtaposition of glimpses, the wallpaper design centers around the texture, feel and visuals of old books; words and graphics vibe back and forth on the pages to create external projections of our innermost conversations. Large paintings have been painted across these books, and the micro-canvases they offer, arriving at an intriguing, almost surreal, effect. Rendered in nighttime black or in a sea of sepia tones against a white backdrop, the Biblioteca wallpaper brings a unique sensuality to the space.
The collection comprises of two distinct units- a central mural and individual wallpaper panels. The mural, 3 drops wide, contains the primary graphic or painting, and is installed in the center of the wall. Individual wallpaper panels, 1 drop wide, are installed on either side as per requirements. Colorfast and washable, this heavy duty wallpaper has a paper top layer and a non-woven backing, making it suitable for both quiet and busier spaces around your home.