Take the best seats in the house to marvel at and enjoy the spectacular show put on by the skies and rugged terrain of the Atacama Desert in Chile. The canvas yurts at the Elqui Domos Hotel, in Pisco Elqui, designed by Duque Moto Architects, promise an enticing experience of nature in its raw, pristine glory amid total style and comfort. Inspired by the grand surrounds, these yurts find expression as impressive geodesic domes that come together to create an otherworldly setting.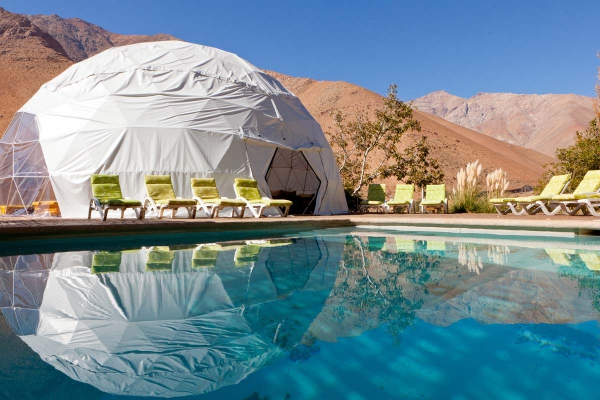 The geodesic structure lends flexibility to variations in the exterior membrane; these canvas enclosures accommodate transparent panels that offer a window into the world outside. A cleverly placed 'skylight' is a portal to the heavens and makes for a fantastic view port to the exuberant night skies here. These windows also come in handy during winters when they flood the yurts with natural warmth and light. The interiors are finished in pine creating a warm, inviting ambiance that offers all the luxuries of a hotel room yet sits lightly within the domed enclosure. An outdoor deck stretched in-front of the yurts offers a perfect platform for night time musings.
Nestled at the foothills of the Chilean Andes, far away from the maddening crowd, these geodesic yurts are haven of serenity, ideal for the traveler looking outwards and upwards for inspiration.