The rustic flavors and feel of a warm, home-cooked meal are translated into an appealing brand identity and three-dimensional experience for fast food restaurant Simple. Located in the heart of Kiev, Ukraine, this casual restaurant design by interior designer Anna Domovesova, with design firm Brandon Agency, embodies the authenticity of tradition with refreshingly contemporary clarity. From concept to detail, the project brings together a unique selection of elements and dialogues, weaving together a stunning symphony of graphic and spatial design.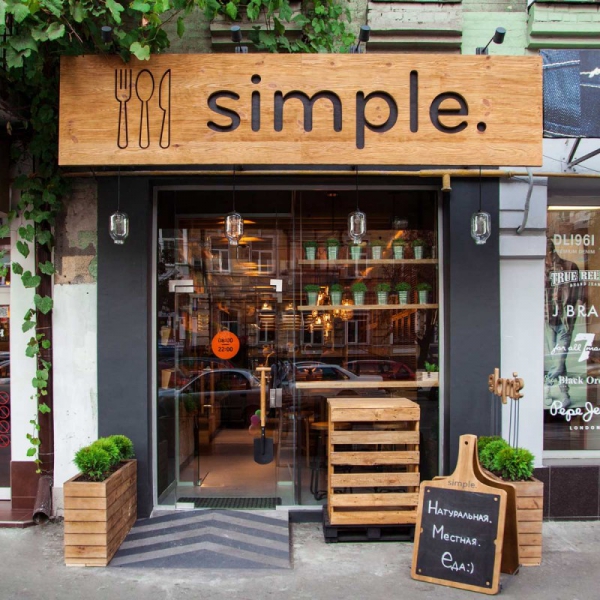 The restaurant is located in an old brick building, in a narrow footprint that was once a passageway connecting the street to the courtyard. The resulting hall is 16 meters long and 2.7 meters wide, with an inherently logical organization and functional pattern. Requiring customers to serve themselves to some degree, the casual restaurant design utilizes the linearity of the site to carve out seamless movements through it.
The interiors are rendered in warm woody tones, with an array of careful compositions adding interest and character to the space. The color palette is crisp and constrained, allowing the plethora of imagery and information to dance upon the walls and surfaces. Fine touches – such as the vertical garden and exposed materiality – transcend the design from a strong visual into an engrossing sensory experience, setting a perfect backdrop for a hearty meal.