Despite the fact that our bedrooms are a unique space in our homes, you'll find that this is also the space that people invest the least time and money for when it comes to renovations and redesign. This may be due to the fact that guests don't really see this area of the home. However, it should be a relaxing area of your home where you can escape from the stresses of life. In fact, having a comfortable bedroom can have profound impacts in terms of the quality of your sleep.
If you've got money to spare, buying stylish home goods is a great idea, but if not, there are also plenty of cost-effective ways to upgrade your bedroom. Here are a few useful design tips for anyone looking to redesign their bedroom on a budget.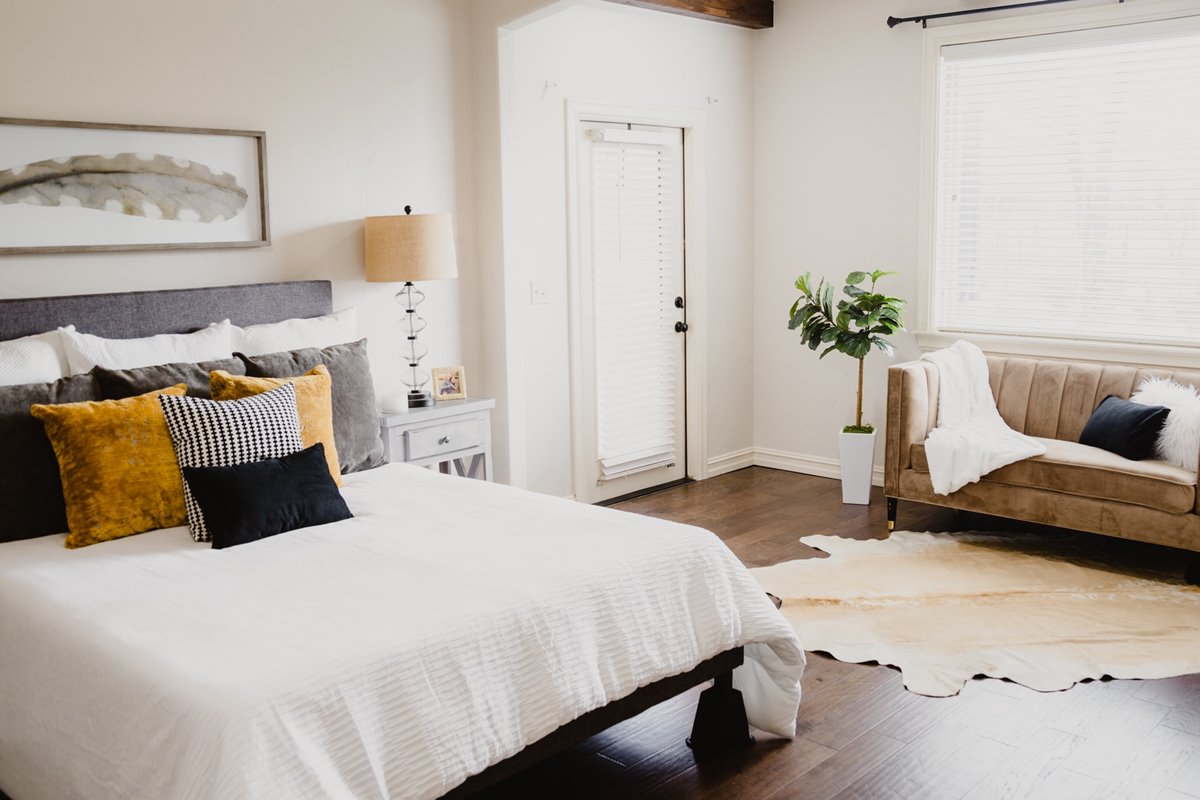 Photo by Isaac Martin on Unsplash
#1 Rearrange the Furniture
If you are looking to create a new look without spending any money, try moving your furniture around. Even just changing the direction of your bed can make a huge difference. Do some research on Feng Shui to find some new ways of creating a relaxing space through rearranging furniture items. While rearranging furniture, be mindful of items that have no much of a functional use and are just cluttering up space. Getting rid of a few tired items can really open up space.
#2 Treat Yourself to New Bedding
Your bed is naturally the focal point of a bedroom, so simply changing the bed linen or adding some new throw pillows on the bed is another easy trick that will transform the room visually. It's a great way to change the color scheme of the bedroom, too, and it doesn't require the effort that a paint job would.
#3 Buy a New Bedside Lamp
Lighting is a key element of any interior design style that has a high potential of transforming the looks and feel of a room. It's especially important when you want to create a relaxing ambiance. A bedside lamp is a fairly cost-effective way to change the feel of a room through a lighting source, and it can help in protecting your eyes when you read in bed late at night.
Adding a rug or changing the old one, would make an impactful change in the bedroom. Choosing a new rug is a great opportunity to add a bit of color to the space and get creative with patterns. Rugs are also functional in that they help keep the room warm and cozy during the winter months. From a vintage kilim to a thick shaggy rug, the options are endless. And with the rich variety of carpets on the market, you can easily find the right rug to suit your taste and preferences.
~
Your bedroom should be a peaceful space that allows you to relax and unwind after a long day at work. It's worth making an effort to make your bedroom a comfortable space for you to spend time in. Remember, you don't always need a complete overhaul to change the look of a room. In fact, just a few strategic changes have the potential to really transform your bedroom in a positive way.