We are in love with this elegant bedroom. It is beautifully designed by Joy Tribout using one of our favorite color palettes: black, white, and brown. It has a wonderful mixture of texture and refined glamour, fashioning an intriguing traditional master bedroom.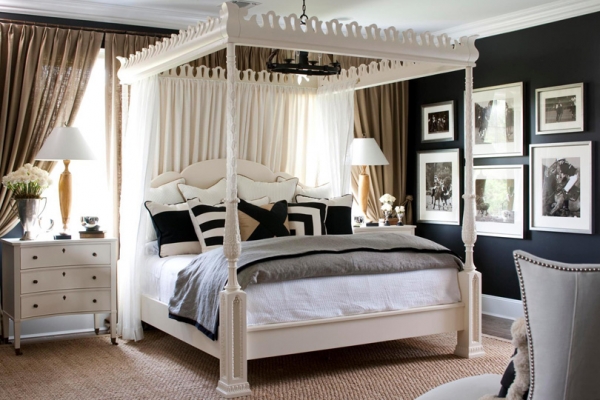 The brown adds an earthy element and a dose of warmth to the black and white color scheme. The bed is stately and interesting. It is white with an outstanding design at the top, and on the bedposts, intricate detailing adds a bit of discreet luxury. Sheer curtains are attached to the top of the bed, providing privacy and a bit of romance. On the bed, a white textured comforter brings even more interest to the design, and a gray blanket provides cool opposition to the warm tone of the brown. The accent pillows are phenomenal, not only do they complement the design perfectly, but they also bring a contemporary feel to this elegant bedroom.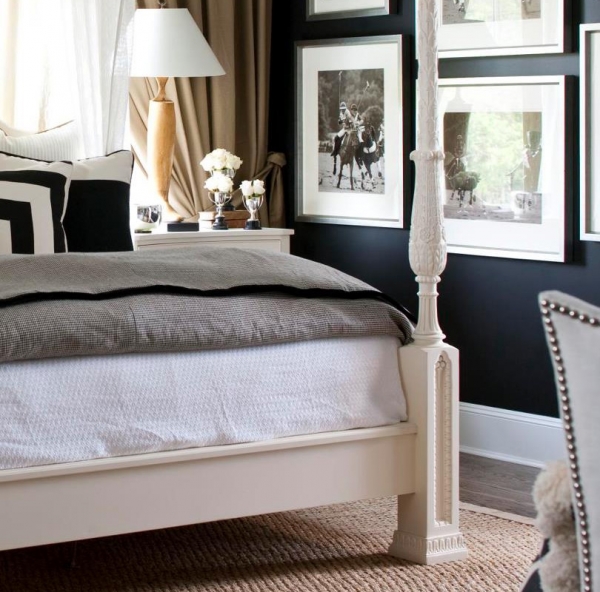 The white bedside tables are adorned with white flowers, beautifully placed in trophies, connecting to the sleek horse sports theme found in the room. The lamps are fabulous with their gold and white exterior, and the artwork adds interest to the room, also connecting to the horse sports theme. We love the black wall in this elegant bedroom, it is the perfect touch.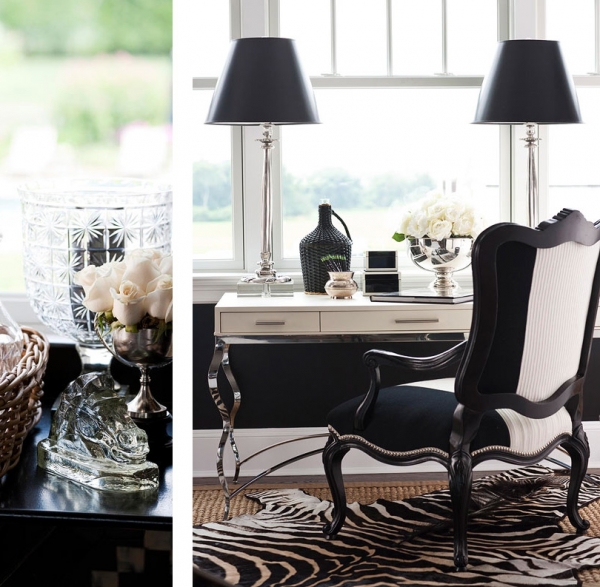 The workspace takes glamour to a whole new level in this bedroom. The desk is white with curvaceous silver legs. The drawers and handles are sleek and clean, letting the base of the table shine. The silver and black lamp is lovely, and the crystal, roses, and horse sculpture, add a significant amount of beauty to the room. A large window provides a fantastic amount of natural light, and a zebra skin rug, and a sublime black chair, complete this magnificent bedroom.