Let's take a walk through some lovely bedrooms. These wonderful spaces are bright, comforting, and welcoming: a perfect combination for a warm and peaceful bedroom.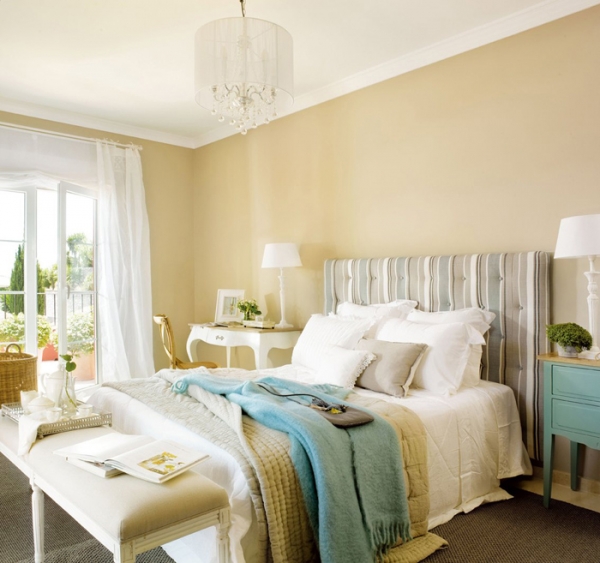 The first room has a fabulous striped headboard. Neutral colors and turquoise accents fill the space, and a beautiful bench sits at the foot of the bed.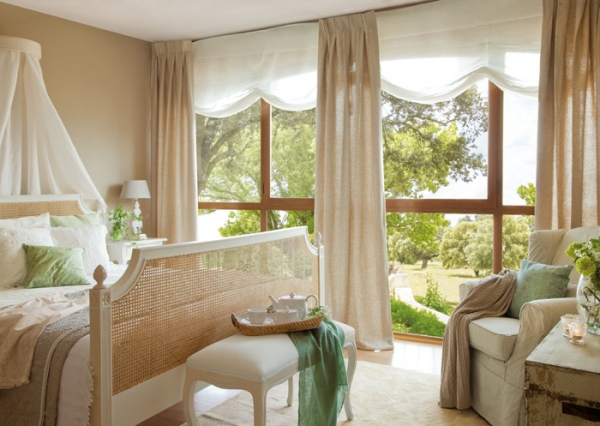 We adore this space. The bed frame is absolutely gorgeous. The large windows allow for natural light, and the scalloped curtains provide beautiful interest. Neutral colors fill this bedroom, and a wonderful canopy decorates the bed.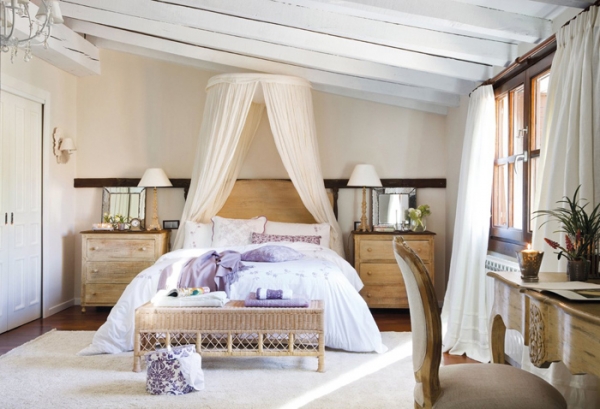 Painted wood beams adorn the ceiling in this space. It has an ornate desk and chair, a fabulous canopy, and a wicker table at the foot of the bed. The purple accents are fantastic.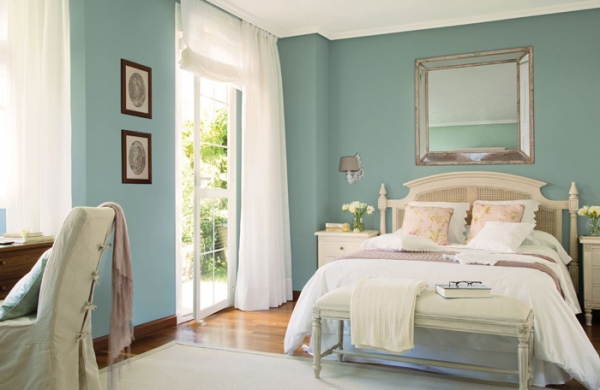 The color in this room is positively stunning. The beautiful mirror above the bed and the sconces, add a touch of glamour and elegance.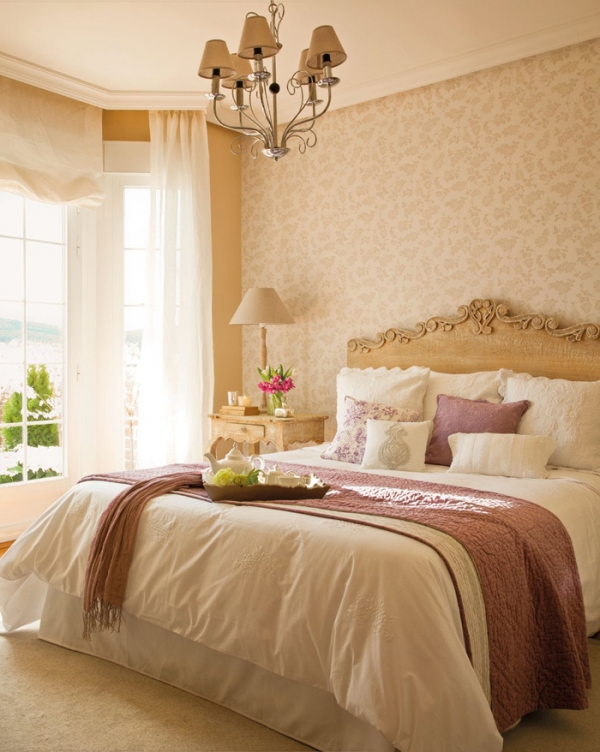 Light brown, white, and mauve accents fill this room. Patterned wallpaper creates a delightful accent wall and an intricate wooden headboard provides interest.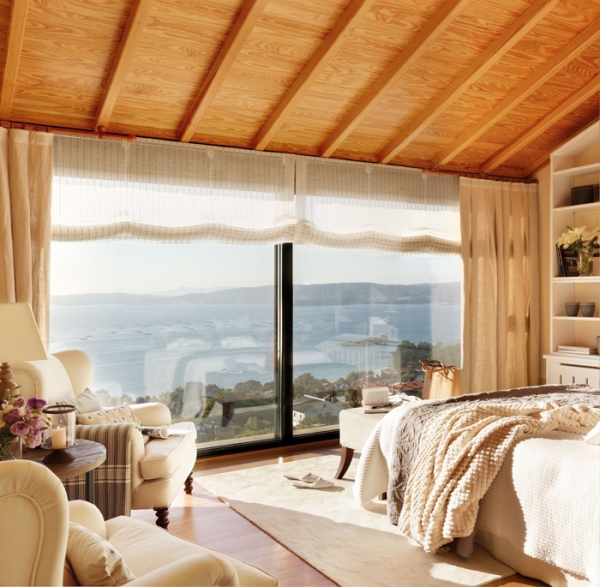 So far, this is our favorite entry into the lovely bedrooms category. Floor to ceiling windows, a comfy seating area, and a wooden ceiling, elevate the space. We love the textured throws, and the creams and browns.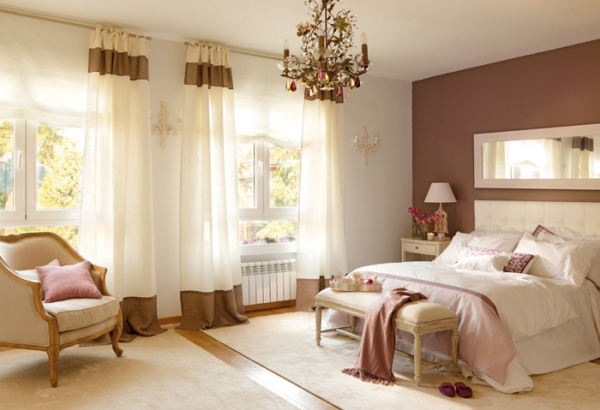 The curtains in this room are beautifully elegant. The mauve accent wall adds color, while the chandelier and sconces, add a lovely dose of glamour.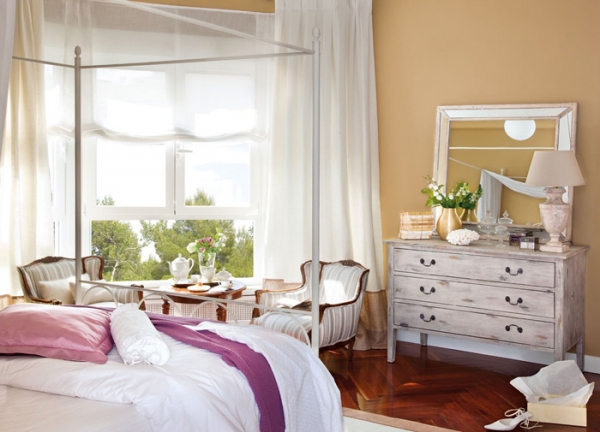 Shabby chic furniture, fabulously striped chairs, a wooden table, and a snow white comforter, create this magnificent room. We love the deep purple throw and pillow.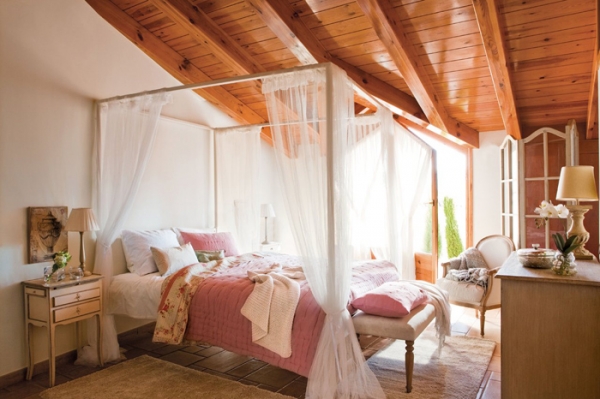 This bedroom has a fantastic wooden ceiling, a stone floor, and outdoor access. Sheer white curtains surround the bed, and an elegant white chair, provides additional seating.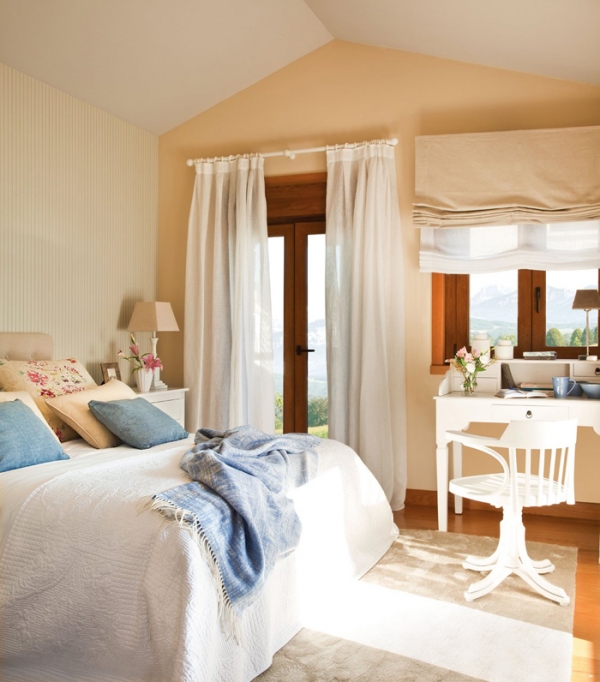 Images found on: El Mueble (website in Spanish)
A white chair and desk match a beautifully textured white comforter. Browns, creams, blues, pinks, and reds, add a wonderful dash of color and interest.
Traditionally and tastefully done, these lovely bedrooms show the serenity and warmth that can be created with fabulous design.