Experiencing your child transitioning into a new stage of development can cause a mixture of emotions. Don't be surprised if you feel everything from nostalgia, joy, fear and love all wrapped up in one. If you already have a child that has started entering their teen years, then you are already ahead of the game! With this transition comes a whole new world of different wardrobe choices, different interests and sometimes, different attitudes! The most noticeable change will occur with the way your teen looks at her room. To prepare you for the room makeover, Olamar Interiors has designed a colorful bedroom prototype that will give you some ideas on what your teen girl may like nowadays.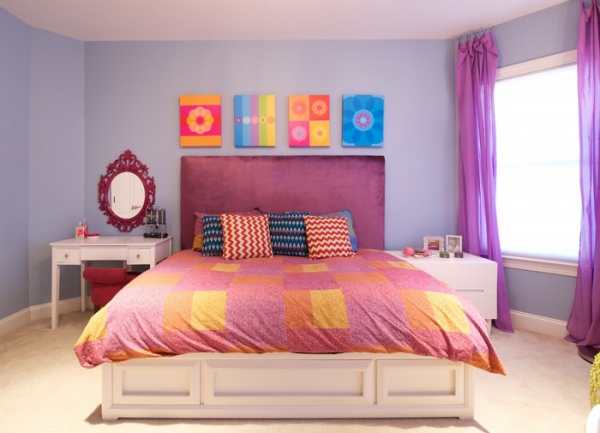 One thing is for certain: Teens like to be wowed with the newest and freshest things on the block. This colorful bedroom is versatile enough to never go out of style, while leaving room for whatever her imagination may want to add. The shape of this room gives it an edgy advantage, while the pink chandelier sets the tone. Patterns and designs immersed in pinks, purples, yellows and blues create an inviting atmosphere that, along with a desk and lounge area, will make her feel comfortable inviting her friends over for some fun. The generous window space and complementing curtains are just enough to give her the privacy she will want while also providing the sunlight she will love. Just remember that she may have a hard time getting up in the morning if she closes them!
This is one fancy bedroom that your teen girl could never deny!