This light bedroom by Stadshem (website in Swedish) is so lovely… The additions of bold color, luscious greenery, and wooden accents, create an absolutely fascinating space!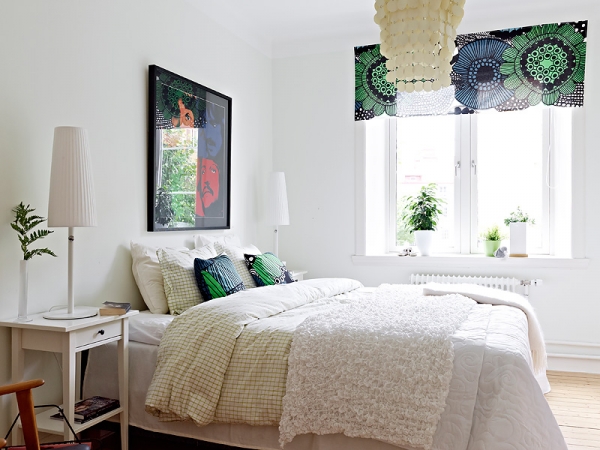 The bed is delightful with its grid patterned comforter and pillow shams. A beautiful white blanket adds gorgeous texture, and the blue and green in the accent pillows, add interest and color. Another white comforter can be seen at the bottom of the bed, adding a less pronounced, but just as beautiful texture.
Above the bed, a black and boldly colored artwork, decorates the white wall, contrasting and complementing the light bedroom design.
Next to the bed, a beautiful bedside table is placed. A skinny white lamp, and a slender white vase, sit on the table. The table has a bit of a vintage touch, and the lamp and vase, add a modern sleekness.
The large window provides a lot of natural light, effectively brightening and opening the space. On the windowsill, simple but beautiful vases, filled with plants, add a wonderful liveliness to this light bedroom. The window valance is beautifully patterned with black, white, green, and blue, matching the accent pillows on the bed, and adding a little more funkiness to the space.
The creme chandelier is absolutely stunning with its cascading circles. We love the touch of warmth this chandelier adds to the room. It also centers this light bedroom, creating a picturesque design.
In the sitting area, the vintage touch continues. A beautiful black leather chair with warm wooden accents, and a wooden table, decorate the space. A bright red, black, and white artwork, by Keith Haring, anchors the design, adding wonderful color and creativity, not only to the seating area, but to the entire bedroom.
The hardwoods are absolutely glorious, contributing to the overall warmth of this lovely room.
Beautiful, fascinating, and funky: we love it.