The bathroom is among the essential service premises at home, a place of maximum comfort while getting clean and tidy, but also a private space for spending some 'me-time' in quiet and serene ambiance. To have a bathroom functional as much as beautifully looking, homeowners tend to make good use of the latest technologies, materials and products that would best suit their needs.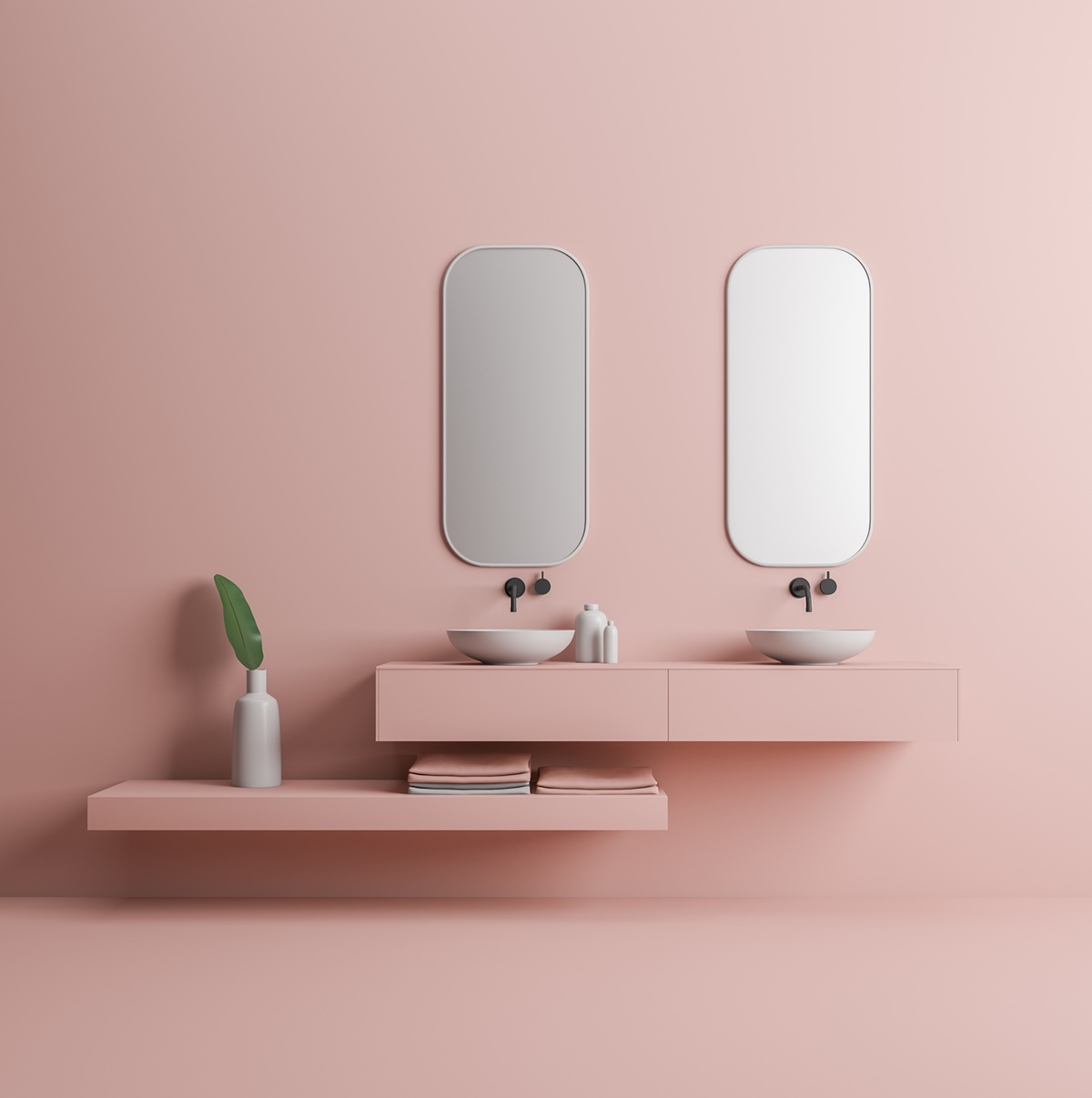 Here we offer you the opinion of experts on some of the top trends at furnishing a bathroom that will impress with style and practical functionality. Whether you are planning to renovate your outdated bathroom or designing the bathroom of your new home, you'll most certainly find their information and tips quite useful for your project.
With water running and splashing all around the bathroom, there are certain essential must-use materials needed to cover and protect the walls and the floor of the room. Even though traditional as well as contemporary bathroom designs offer various options, tiles tend to be the most popular choice, especially in the areas of the shower, the bath and the vanity sink.
Apart from their practical functionality, tiles are also the easiest way to create the perfect bathroom design. They are offered in a wide diversity of shapes, patterns, colors and textures, which helps in decorating the bathroom and every specific area therein so as to perfectly match our aesthetic taste and creative vision.
use tiles to create an impressive accent;
focus attention to certain elements of the bathroom layout and interior design;
make the shower stand out by introducing tiles in contrasting shapes and colors;
turn your bathroom into a de-luxe spa haven by a carefully designed arrangement of sparkling white tiles and tiles with vibrant Mediterranean patterns.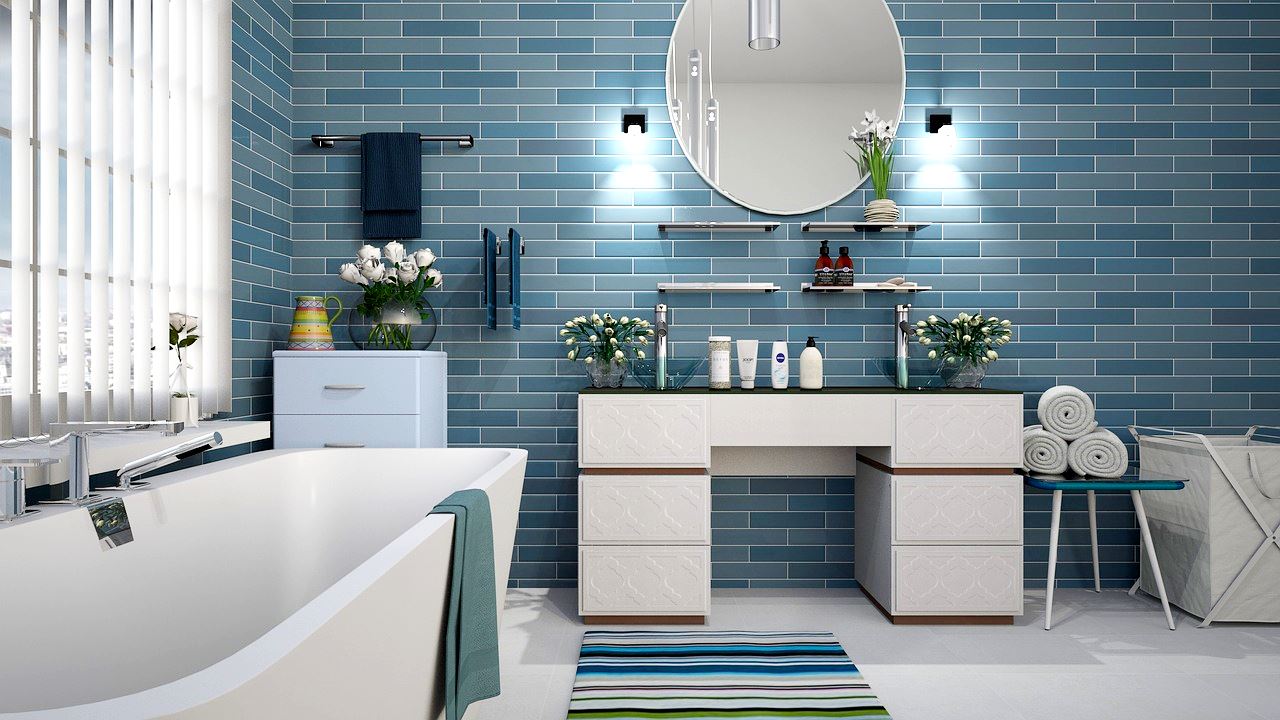 An alternative to tiling the walls is the use of wallpapers. Naturally, bathroom wallpapers are made of specially designed materials to withstand excessive moisture and high humidity, yet it is recommended to avoid wallpapering the walls of bathroom areas where water splashes directly. Because of the wide variety of designs, colors, textures and prints, bathroom wallpapers are offered in, they are however an excellent choice for adding charm and character to the place.
The bathroom floor needs extra attention. Traditional wooden floors are no longer a suitable option, either from practical or aesthetical point of view. To satisfy contemporary demands, industry offers specific materials for the production of bathroom floor tiles of outstanding quality and endurance. Granite, terracotta, hard ceramics, artificial and even natural stone and marble tiles in a rich variety of textures, patterns and shapes, complement the overall bathroom design while ensuring a long-lasting practical use.
for a more traditional look, use floor tiles imitating wooden floorboards or natural pavement materials like stone, marble and terracotta;
for a more modern and luxurious look, use tiles of geometric shapes in colors, neutral designs and arrangements in classic patterns or mosaic.
A great way of building an impressive bathroom design is through color contrasting and through introducing spectacular accents in bold colors. Color contrasts add drama and diversify the space, while adding pops of color cheers it up and creates exciting accents against a background of monochrome or neutral tones.
to add pops of color, choose bathroom fixtures or/and accessories in colors contrasting the main color palette of the bathroom, or those made of different materials like gold, brass, chrome, etc;
color contrast effect can be created through introducing individual tiles or/and tile-panels and mosaic  or geometric patterns, both on the walls, as well as on the floor.
Bathroom fixtures and fittings produced by contemporary industry have become more than just functional parts. Nowadays, taps, mixers, showers and various bathroom accessories have been turned into statement accents, striking not only with high-tech functionality and materials, but also with stylish designs.
Make use of bathroom fixtures and fittings in sets, to ensure a more cohesive and stylish finishing touch.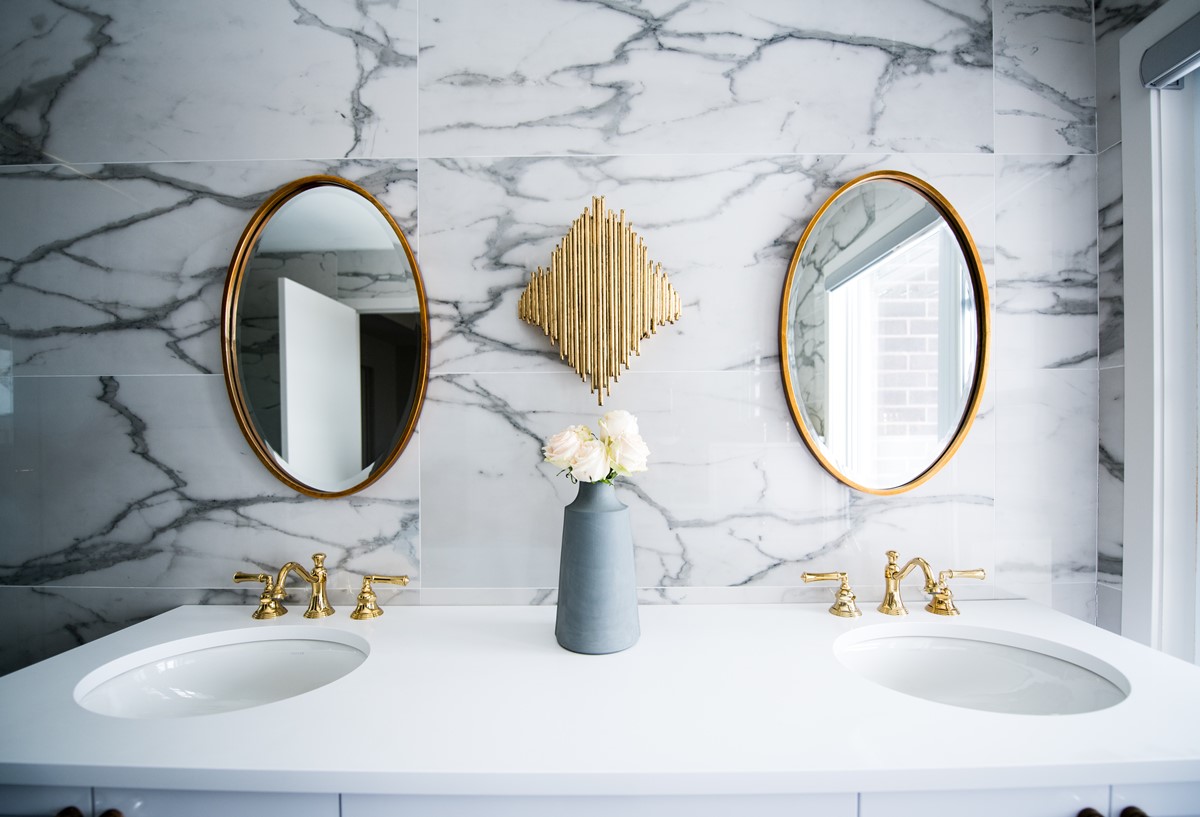 When it comes to designing the bathroom interior, there are endless options depending only on the taste and aesthetic preferences of the homeowners. Contemporary trends feature a variety of styles, from evergreen classic elegance to lavish spa-inspired extravagance. The main aim is to create a functional space looking beautiful, bright and cosy.
frameless shower enclosure doors and screens are a top trend;
instead of a mirror in a traditional rectangular shape, opt for an oval shaped mirror for a more elegant look;
metallic fixtures in matte brass or copper add a sense of classic style, while those of shiny polished metals create a more luxurious and modern look.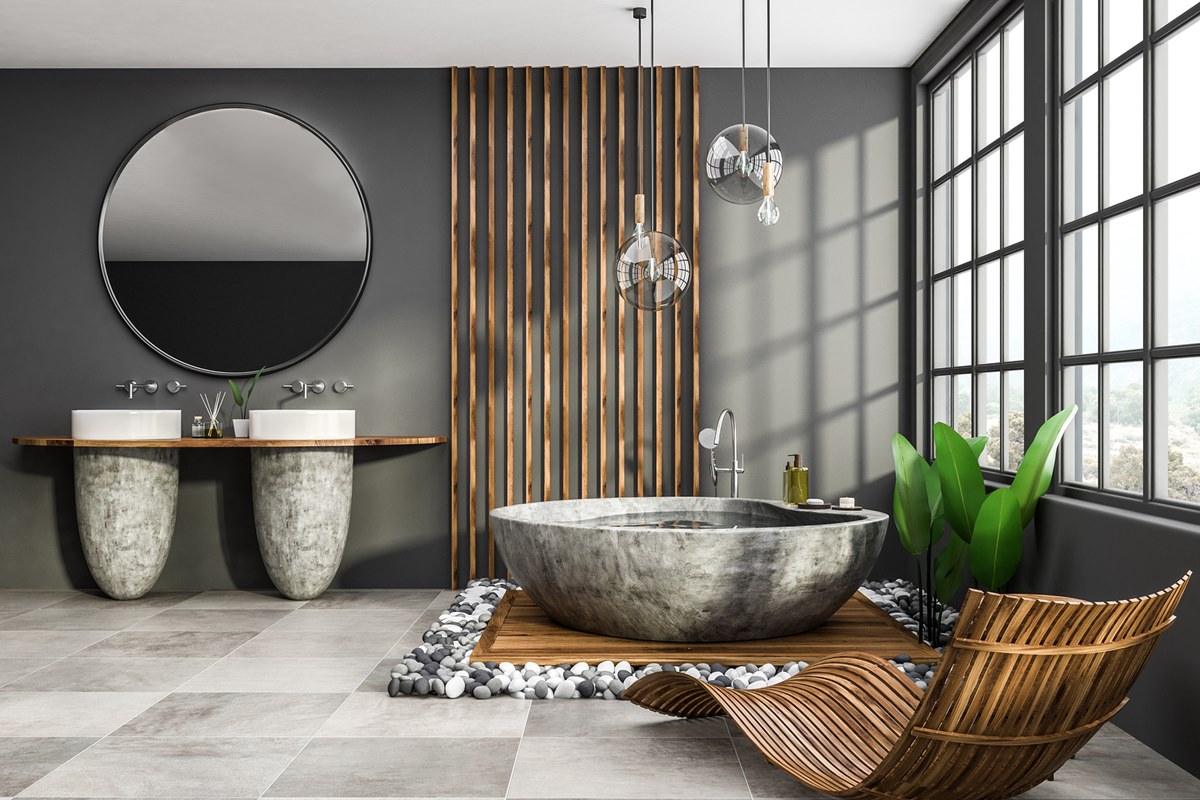 Wet rooms are lately becoming a popular choice. Featuring a simple design and with priority to functionality, they are very suitable for bathrooms with unconventional shapes or layout, and also provide an easier access into the bathroom.
Surprisingly, the bathroom is one of the home spaces where technology has made quite a progress. A contemporary bathroom features all sorts of appliances, materials and items designed to spare water and energy and to protect environment. Smart showers with individual settings for different users, sensor activated toilet flushes, mirrors with digital clocks, TV screens, computer displays, energy efficient lighting, technology in bathrooms keeps introducing innovative ideas and solutions. Moreover, this trend seems to have only started and shows a strong potential for further development in the coming years.
use LED lights; they save energy and stay cool;
use smart bathroom appliances to decrease water and energy consumption;
high-tech bathroom fixtures and appliances look very stylish.