Gone are the days when bathrooms used to be largely ignored in terms of style and design. Now, as evidenced by these images, the bathroom is beginning to be seen as a space in which to imbue luxury and class. And isn't this preferable? After all, if it's a space in your home that you're going to spend time in, it's a space that deserves a little attention. Even if your bathroom isn't that big, there are plenty of bathroom interior design ideas that can still be incorporated.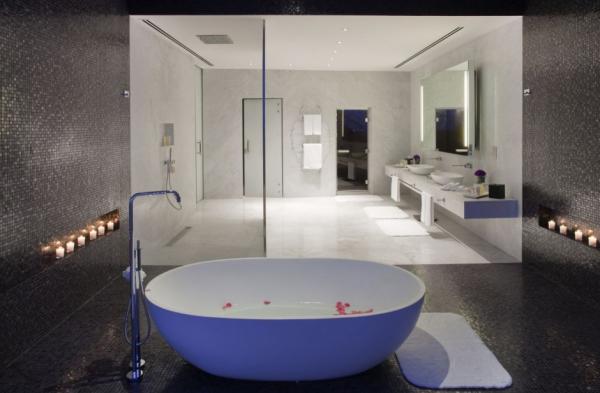 For starters, windows shouldn't be forgotten when it comes the bathroom – a well-placed window (or multiple windows) can do a room a world of good. In these images, the tub is often situated right near or under a large window, making for a lovely bathing experience. Windows often make up entire walls, giving even the smallest bathroom a lovely, open feel. The scenes that you can see out of the windows (such as greenery and trees) essentially become part of the whole design scheme, and contribute to the wonderfully natural ambience that is present here.
Mastering the art of the bathroom lies in creating open, gleaming surfaces. Nothing in these bathrooms feels too constricted or cluttered: design is simple, yet elegant. Decoration and interior design is kept to a minimum, as well. A white candle here and there, and well-placed bouquets of pale flowers in glass vases – these elements go a long way in what should be an unfussy yet beautifully-designed space.
The crowning jewel in bathroom interior design is creating a simple, soft space with only one decoration, object, or plant – such is the case with the giant tree in an otherwise stark room, or the two hanging white balls above the tub in the last image. Nothing should feel too overwhelming or muddled in the bathroom space, and these rooms are a testament to that fact.