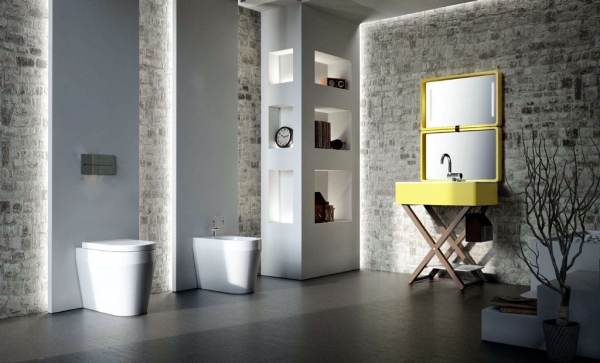 Think you've seen it all when it comes to bathroom fittings and accessories? Think again! Thanks to designers playing around with the lines that delineate expectation and function, our spaces are stirred with ideas and products that tease the norm. Take this suitcase vanity from Italian ceramic house Olympia for example. Nicknamed 'My Bag', it transforms the conventional suitcase rack into a nifty, foldable vanity unit that meets all its utilitarian demands while blowing up any aesthetic preconceptions.
The ceramic suitcase unfolds to reveal a wash basin, wall mirror and a series of storage and display compartments. Mounted on a removable wooden base, the suitcase vanity is articulated in an uncluttered composition of clean lines and soft edges, firmly anchoring it in contemporary sensibilities. The unit has inbuilt fittings such as the soap dispenser, a small make-up mirror, a suitcase handle that doubles up as a towel rail, as well as a faucet that folds up when the unit is closed. Along with the inbuilt space for sundries such as your toothbrush, paste, etc., a leather pouch hangs off its side offering a more generous and accessible storage option. Further a shelf integrated into the wooden base lets you neatly store towels and other items out of your usual line of sight.
A perfect companion to minimalist bathroom designs, this suitcase vanity is available in four colors- yellow, green, cream and faux wood.