This awesome bathroom belongs to kitchen and bath designer, Bev Adams. It's a glorious space full of marble, stunning whites and grays, brilliant glass, and feminine touches. If you are trying to create a luxurious bathroom, or if you just like looking at gorgeous things, this bathroom is the one for you.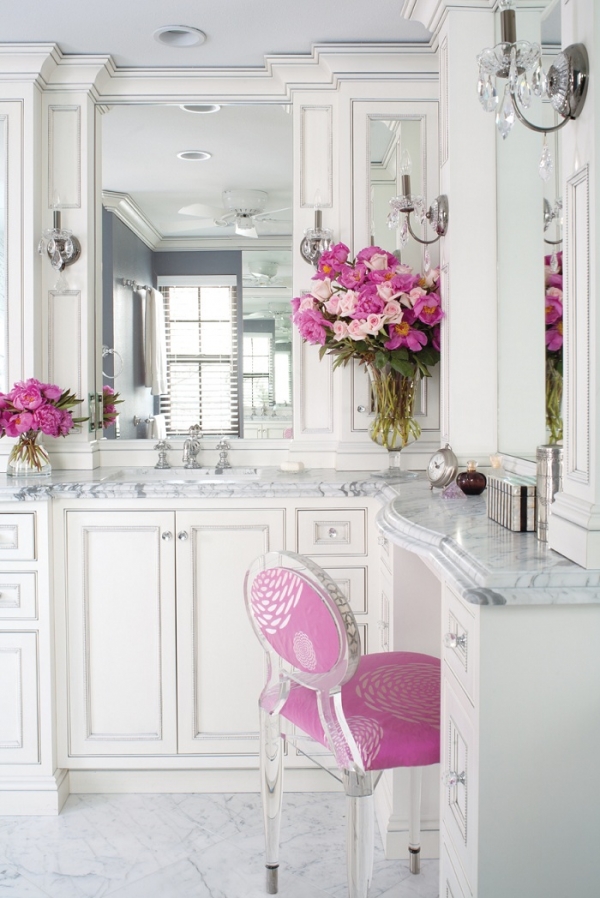 We love the white and gray color palette, with the touches of pink. The flowers are a fabulous addition, they brighten the room, and add a bit of charm. The detailed walls in this space are lovely, they bring even more glamour to the room. The marble adds a significant amount of elegance, and the glass accents, seen in the knobs, sconces, and vases, heighten that elegance to a majestic level. The windows allow for natural light, and the abundant mirrors open up the space, giving the room an airy feel.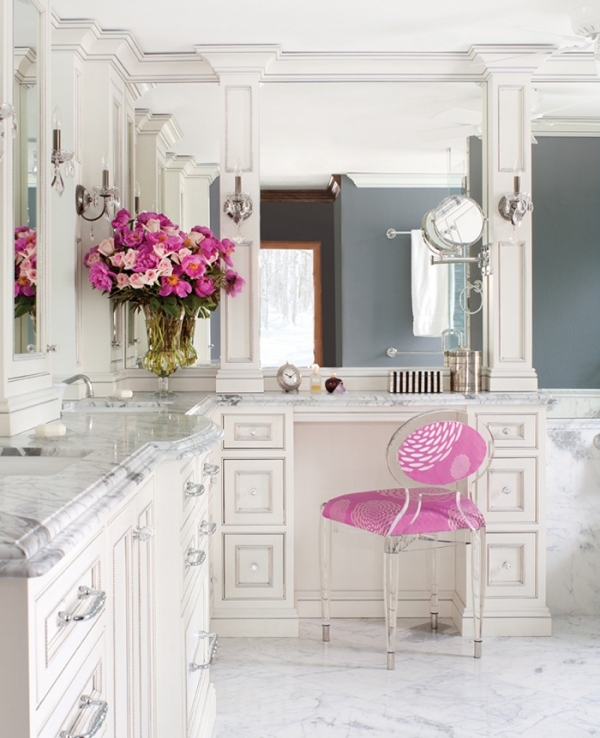 The pink chair is lovely, adding even more femininity to this awesome bathroom. We adore the frame of the chair, it connects to the glass used throughout the design. The gray walls anchor the room, contrasting the brightness of the space and connecting to the gray in the marble.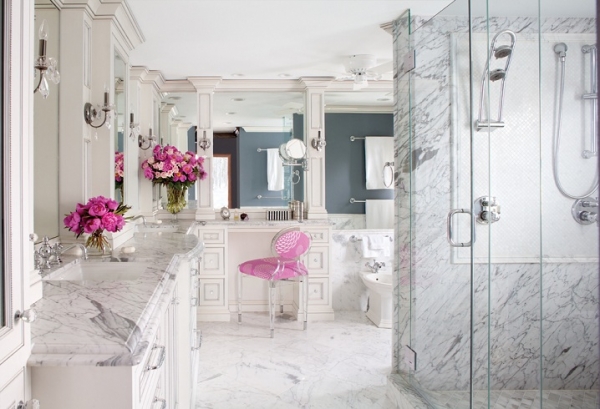 Images found on: Mix and Chic
The shower is enclosed in glass, and has a glass door with a sleek silver handle. The shower fixtures are amazing. Luxury is included in every detail in this awesome bathroom. The marble in the shower flows into a gray and white tile floor. The diamond shape of the tile provides a bit of contrast to the pattern of the marble, adding interest and even more style.
We would feel like a queen every time we walked into this bathroom. The marble, the glass, the large mirrors, the natural light, the amazing seating area, and the inviting shower, are dream-worthy, fashioning an awesome bathroom that we would never want to leave.