Anchored in simple, yet utterly sound, architectural strategies, this project reinvents a tight cramped space by unleashing it through design. Invigorated and articulated by Carla Aston Design, this bathroom remodeling adopts a fresh palette, layout and aesthetic approach to maximize on its utility and aesthetics.
Responding to the desires and demands of its users, this design steps away from complicated overlays, to create seamless interfaces between various elements and their functional and visual vocabularies.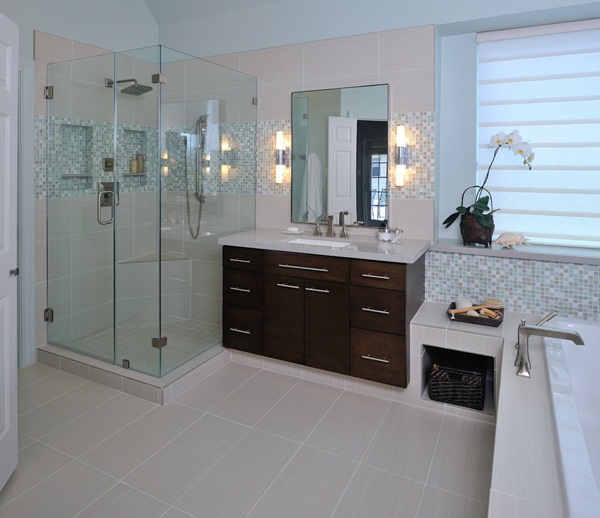 The design adopts a linear dialogue, utilizing the patterns created by its tiling – and the scales established by these – to bring order and rhythm to the space. From rectilinear floor tiles that visually elongate the space to intricate mosaic tiles that explode it, the patterns and layout play a key role in reinventing this bathroom and its potential.
Further, the old bathtub is replaced by a more compact, rectangular design that better aligns with the new composition, further opening up the space and making it more pleasant and safe to use.
The new layout also integrates a variety of incidental, functional and storage requirements within it, creating a series of niches, compartments and lighting solutions that address every need possible. The finishes are clean, crisp and uncomplicated, lending an overall serenity that is distinctly contemporary to this bathroom remodeling project.