We happen to think that baths are quite possibly one of the greatest things in the world. So, imagine our delight when we saw this luxury bathtub by Splinter Works. This outstanding piece of art calls upon the shape of a hammock to reinforce a relaxing and peaceful bathing atmosphere. It is 2.7 meters long, but the size can be customized, and it can be cut down by up to 20 centimeters, providing a bit of flexibility. Designed for a wet room, each end attaches to a wall with a stainless steel bracket, lifting the luxury bathtub off of the floor. A floor standing faucet fills the bathtub with water and waste water is expelled through the bottom of the tub into a floor drain. If a wet room is not available, the tub can still be installed using a downpipe drain.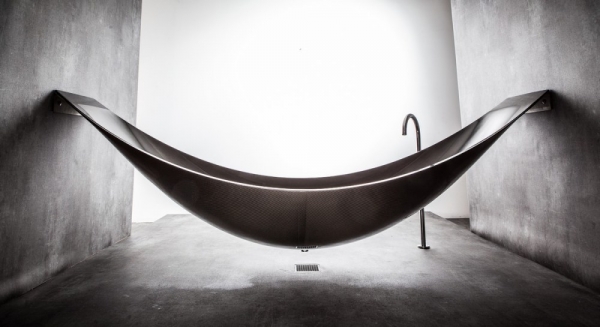 The luxury bathtub is made of carbon fibre and foam core. The carbon fibre provides durability and connects to the material typically used for hammocks with its very own fabric texture. The foam core provides insulation, making sure the bath water stays hot a little longer and making sure that your bathing experience isn't cut short by lukewarm temperatures.
Not only is this bathtub full of wonderful and thoughtful design choices, but it is also absolutely gorgeous. The curves are positively phenomenal, and we love the way it dips in the middle. If you want to amplify the sleek feel of this luxury bathtub, the steel brackets can be hidden, fashioning a stunning floating effect in the room. If you enjoy a bit of an industrial feel, they can remain in view and provide an amazing contrast to the polished look of the bathtub.
This breathtaking tub comes in multiple colors. You can get it in red, blue, yellow, pink, bronze, silver, and black.