Architect Victor Diaz Paunetto takes on the challenges posed by a tight budget, schedule and a desire for ecological excellence, in this unique renovation of an abandoned 1960s concrete module. The architect, who was also charged with construction, adapted the 256 square meters extension to the Guardería Ecológica La Mina in Corozal, Puerto Rico – originally built to accommodate vocational training facilities – to house a multipurpose program for the nursery school.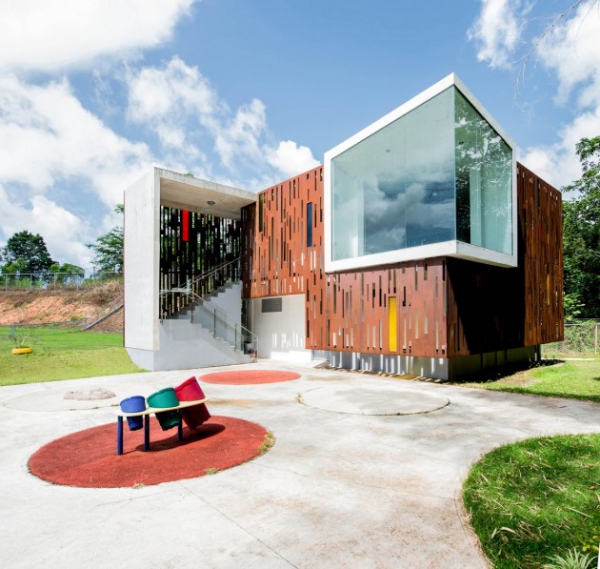 Instead of demolishing the existing shell, the design revives it through a series of construction and design measures. The original structure is wrapped in a Corten steel skin that is perforated to reflect the visual vocabulary of its surroundings – densely populated with bamboo hedges. The punctures and openings permit in an abundance of natural light, deftly manipulated into a symphony of color and composition by inserting an array of glass panels.
An external concrete staircase connects the two levels, adding a new dimension to the geometry and visual language of an otherwise consolidated core. A glass volume is also carved out on the upper level to connect the interiors with its surroundings and the nursery that lies before it. This unique renovation houses an adaptive space used for parent meetings as well as seminars and trainings for teachers; it also offers extensive storage facilities used as and when needed.
Built within a six month program, the GELM Annex is an efficiently and smartly put together project. This unique renovation goes easy on the old without losing any of its ambitions for the new.