The outlandishness of a built intervention among pristine, untamed landscapes is encapsulated in the intriguing form and geometry of the Kezmarske Hut. A competition winning entry by Atelier 8000, this design for a traveler's lodge among the high Slovakian Tatra Mountains literally lands a solid cube among the endless vistas, almost like a meteor from outer space. Anchored delicately on one corner, this unique hut portrays the dynamics of its context through form, orientation and interiors.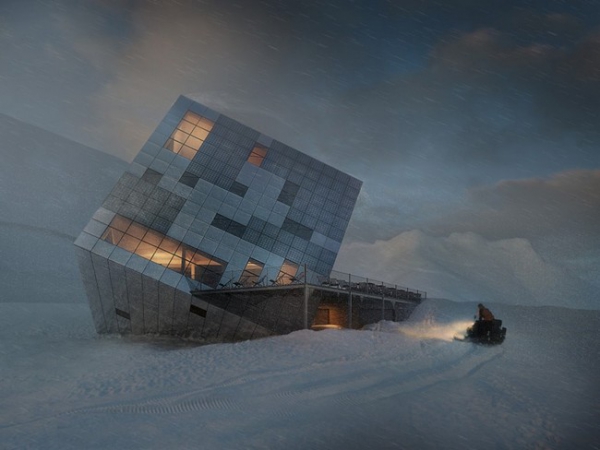 Responding to the variations in environment and weather, the cube continuously adapts to change in functional and energy demands through its fluid layout and responsive technology. Built of glue laminated red spruce timber beams, this unique hut is clad in square panels of different reflective materials. These not only impart a futuristic lightness to the building exteriors, but also integrate photovoltaic cells that supply precious warmth and light in even the most drastic of weather conditions.
The interiors are in stark contrast to the exterior aloofness; the visitor is welcomed into a warm sanctuary clad in beautifully layered wooden surfaces that invite and relax. The various areas flow and split from each other seamlessly to create a mutable layout that finds use and purpose all year round.
A strong identifiable in a challenging terrain, the form and spaces of this unique hut offer warm solace and renewed hope to the weary traveler, as well as a good dose of invigoration and inspiration to the excited.