Every structural element, every pane and every surrounding leaf comes together to participate in prayer in this modern icon of chapel architecture, built and designed by architect E. Fay Jones in 1980. The Thorncrown Chapel in Eureka Springs, Arkansas is sculpted and shaped by the principles of organic architecture as expounded by Frank Lloyd Wright– pioneer architect and Fay Jones' mentor.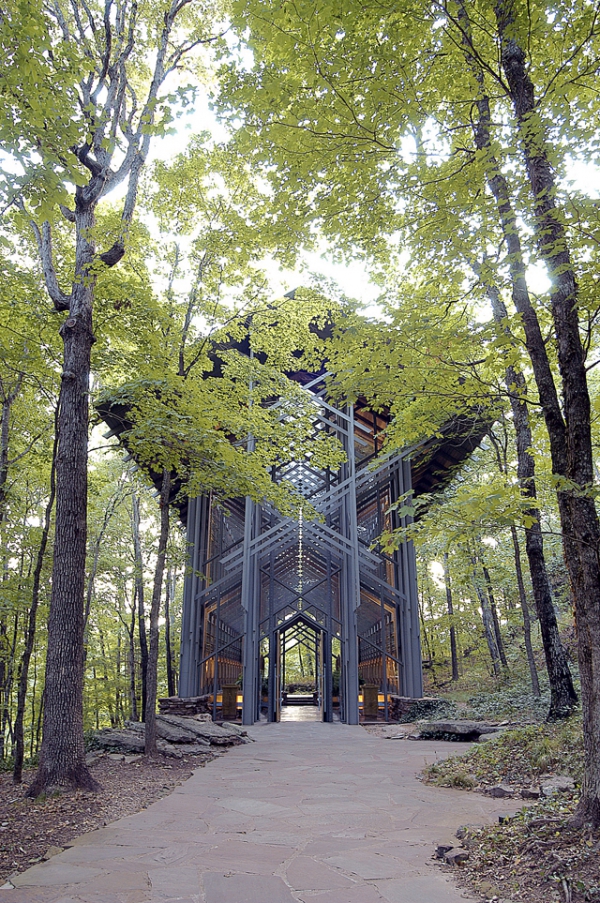 Segregated from its surroundings by a graceful membrane of steel and glass, this beautiful chapel integrates the sweeping views and vibrant settings of the Ozark habitat into its design. Fay Jones limited the size and weight of any and all elements so they could be carried by two men with their bare hands across the woods. This lends lightness, almost weightlessness to the space with humbly scaled structural members coming together to create magnificent geometries and inspiring volumes.
The architect renders traditional chapel architecture in modern materials, maintaining its exaggerated height and proportions, and reinterpreting the geometries of buttress and brace in steel. The structural geometries reinforce principal axes in the design, introducing a firm order to the space despite its transparency.
The Thorncrown Chapel was placed on the National Register of Historic Places in 2000 and stands as a stunning illustration of organic chapel architecture. The chapel is currently in the news as a high voltage line proposed through the woods endangers its seclusion and serenity.