Want an intimate encounter with the great outdoors, without giving up on the comforts of the indoors? If yes, then the Juvet hotel in north-eastern Norway is definitely for you. Designed by Jensen & Skodvin Architects, this hotel takes a minimalist approach to architectural design and expression. Nestled among spectacular forests and landforms, the built form of this minimalist natural hotel blends into its physical surrounds, bowing to it by keeping its scale modest and vocabulary simple.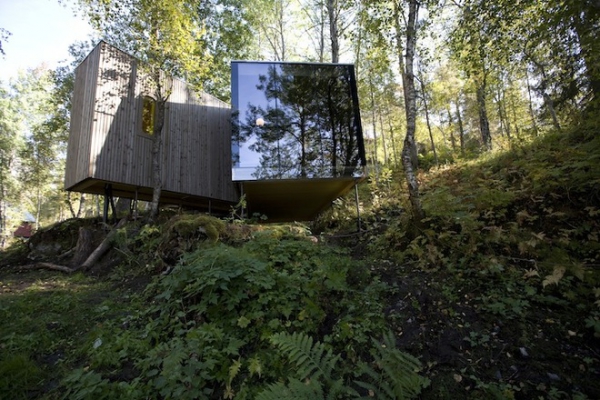 Rendered into a series of box shaped volumes, the hotel sits silently among the intricacy and verve of the organic. Extensive glazing offers a membranous interface between the interiors and nature at large, reflecting it back to melt into it. This not only keeps the design crisp and contemporary, but also makes for dramatic backdrops to the living spaces within.
Instead of being bound into a consolidated volume, the rooms of this minimalist natural hotel are distributed across the landscape. The distance between the rooms and their orientations are deftly employed to create the necessary privacy levels and achieve a remarkable level of solitude and individuality. Enthused by a variety of outdoor activities and sports, your stay at this retreat can be as relaxing or stirring as you like.