Located on a terrace, halfway up a river facing rock hill, this brilliant design marries the restraints of its compact site with the uninhibited flavor and inspiration of its surroundings. Designed by a21 Studio, this small spa measures no more than 126 square meters in area, but offers an abundance of delights through its architecture and experience. Anchored in core design sensibilities and a close conversation with traditional construction methods and wisdom, the Tent spa in tp. Nha Trang, Khanh Hoa, Vietnam is a brilliant addition – to the natural landscape and your itinerary.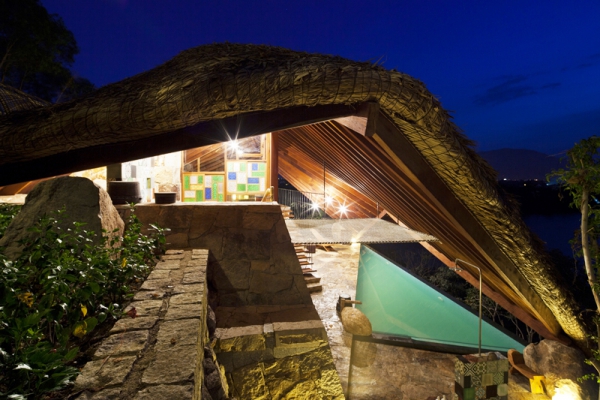 This small spa derives its name from the dominant role its geometric roof plays in addressing its functional and aesthetic demands. Using indigenous building techniques, the exaggerated sloping roof protects the spa from harsh solar heat that hits its west-facing site, while carving out a shielded and cozy space below it. Rising straight off the terrace floor, it creates an open and generously ventilated stage to detox, unwind and heal oneself. The wooden roof structure is built on a series of 100×250 mm beams, overlaid with three layers of 20 mm thick wood panels and covered with a waterproof membrane and banana leaves. The banana leaves along with dry stacked stones are quarried on the site itself, further rooting the design into the local vernacular.
The spa is arranged over two levels with a mineral pool, mud pool and open ended relaxation space on the lower level. The upper level accommodates a wood framed bedroom with private shower. A cantilevered net frame adds a touch of whimsy to the proceedings, making this an ideal location for relaxation and play.