We are constantly being awestruck by the amazing architecture that is being created these days. The Haus am Weinberg, located in rural Stuttgart, Germany is one architectural feat that has done it again. Designed by UNStudio this modern house looks like something out of the Jetsons. With its twisted exterior and impossibly open windows it seems almost unreal. Though we may think our eyes are deceiving us, this modern house is indeed real.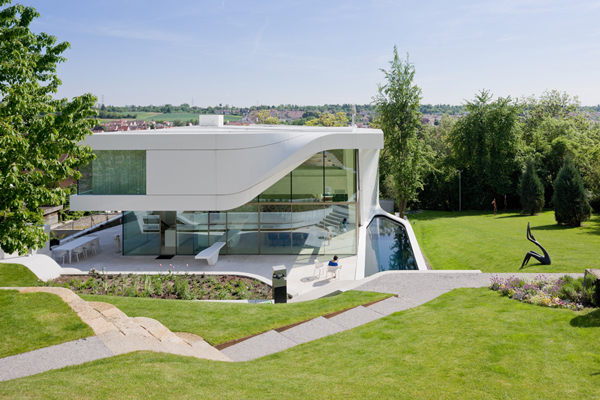 This house design is made possible by a cantilever system made of four concrete support structures including an elevator shaft, two pillars and one column. The cantilever system makes it possible to have almost no exterior walls, which allowed the architects to create the huge expanse of glass that reaches from the first floor to the second. This huge double-height glazed corner contains the dining area and opens up to views of the vineyard on the hill outside. This corner of the house can also be opened completely by means of sliding glass panels which adds a new meaning to the phrase "Bring the outside in." If the modernistic architectural solutions and the natural views aren't enough to blow you away, the interior offers just as much eye candy. With natural wood oak floors, natural stone, white stucco walls with fragments of reflective stone imbedded within it, and a sweeping staircase, the interior of the house offers much to ogle at. The furnishings are kept minimal and simplistic and many of them are integrated into the design of the house. Even though the house is open, it offers many different areas of living, such as gym, relaxation area, piano room, apartment and guest room, just to name a few.
With a house that has so much to admire, we were wondering, when can we come visit?