Offering an open invitation to relax and unwind within its exquisite spaces, this apartment employs a warm color palette to create a stylish, cozy haven. The designers at Workshop Art merge open, uninhibited modernist sensibilities with a rich, luxurious earthy vibe to create spaces that impress and de-stress.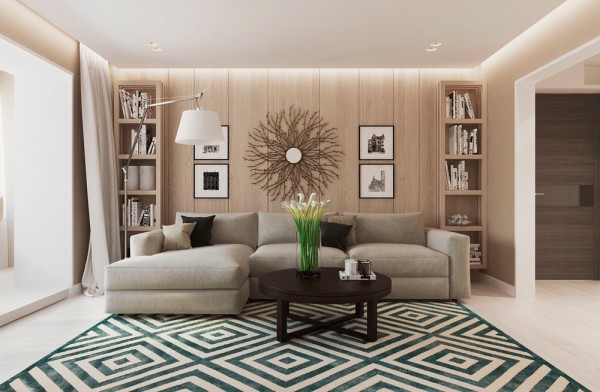 Working with paler tones for large washes of color allows for a muted overtone to the design that aligns with its generous, open layout and light filled ambiance. The furnishings variably borrow from the warm color palette, sticking to clean, sharp profiles that keep it contemporary no matter what the color. Patterns evocative of the earth and its traditions are silently introduced into the space, adding some play and lively volume to it. These foray into darker, richer shades of brown as do individual elements that are boldly highlighted to anchor the design scheme. The space is capped off with soft, ambient lighting that melts into it.
The bedroom is uncluttered with minimal furnishings keeping it simple; the washes of color here create a gentle spatial vocabulary that lends it experience and identity in understated elegance. In the dining-kitchen area however, the warm color palette draws inwards to concentrate on individual elements. This space is washed in white and grey to accentuate its light and openness, with deep brown highlights adding interest through furniture and elements.