Nifty, creative and delightfully detailed, this little gem of an apartment is located in the village of Lensovetovskij near Saint Petersburg, Russia. Designed by Geometrium, every facet and space in this vivid small apartment reflects the vibrancy of the young couple that inhabits it. A focused exploration of the aesthetic and functional possibilities within its tiny footprint, the design steers clear of pomp and cheap tricks, to create visual delight through sound architectural design.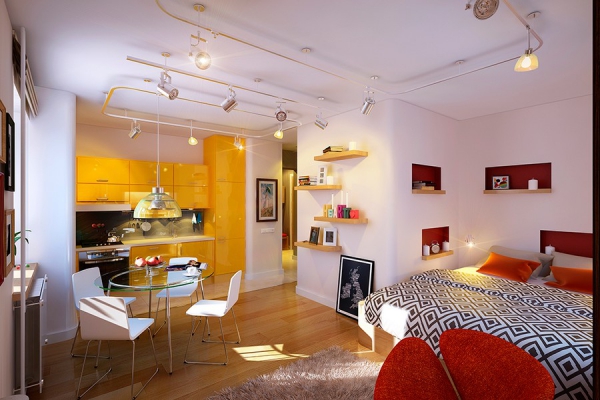 The space is laid out in an open plan, creating clear zones and movement by introducing a walk-in closet into the space. This not only creates smaller pockets of space and function within the overall volume- carefully filtering visual access and inducing greater privacy, but also creates consolidated storage that keeps the common space clean and uncluttered.
This vivid small apartment is washed in white and accentuated by spot lighting, making it open and spacious in feel and ambiance; color is introduced through individual elements that visually anchor the design within the open field. A series of wall art not only adds interest, but also explodes the scale with its arrangements. A similar strategy is adopted in the bathroom where 4 inch tiles in various colors vibe off each other to break free of spatial restraints. The ventilation hub is painted to offer a vertical information wall that can be used for work or day-to-day communication.
A dynamic reinterpretation of an otherwise predictable enclosure, this vivid small apartment offers a bounty of ideas and insights into the possibilities of life – as it plays out in tiny spaces.