A former caviar warehouse is revamped to embody new statements in luxury and high-end living in this remodeling project by architect Andrew Franz. Located in the delectable Tribeca region of Manhattan, New York, this top floor apartment offers a stunning urban oasis, stirred and enthused by its bohemian flavor within and the iconic skyline without.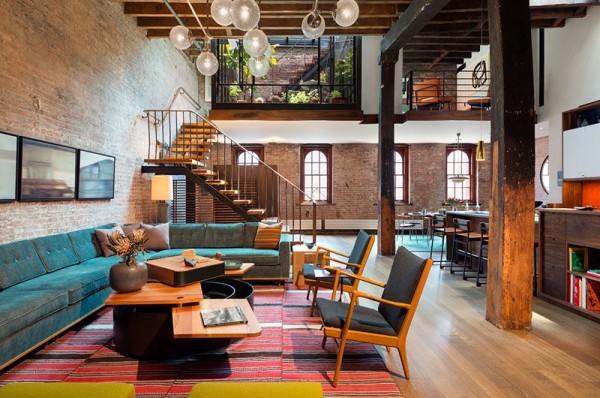 Drawn out in grand, open gestures, the open spaces of this apartment are punctuated by a burst of natural light and organic spirit. These invoke a charming yet utterly relaxed vibe within the space, reinforced by the bare textures and finishes of the walls, surfaces and structure. Color and element populate the generous volumes, adopting a wide spectrum of patterns, scales and identities to add movement and play to the scheme. This riot of design and flavor is tied up into visual harmony through contained and crisp forms, profiles and a close attention to detail.
The experience and aesthetic of this top floor apartment is taken a couple of notches up by the opportunities to engage with nature on offer here. A sunken courtyard, which floats above the primary social core, and a rooftop garden offer an organic sanctuary in the urban surrounds. Native plants, requiring less water, invigorate the roof garden, saving on energy demands as while contributing to the insulation. The courtyard is equipped with a retractable glass canopy, making it the perfect outdoor haven – all year round.